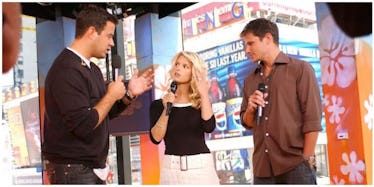 Donald Trump Could Make An Appearance On The New 'TRL' Because Nothing Is Sacred
Frank Micelotta/Getty Images
I know I'm beating a dead horse, but 2017 really sucks. First, we lost Nelsan Ellis and friggin' Charlie Murphy. Then, President Donald Trump pulled the U.S. out of the Paris Accord, probably dooming us to an environmental apocalypse. And now, not only is Total Request Live coming back to television (for some reason), but MTV's new TRL wants Donald Trump as a guest.
In an interview with The Fader, showrunner Albert Lewitinn said of Trump, "He's welcome to hashtag us and @ TRL. [...] Of course we would welcome him on. He's the president of the United States."
There is so much wrong with this news that I don't even know where to begin. Well, OK, yes I do: how mind-bogglingly tone-deaf extending an invitation, even casually, to Trump is.
I mean, consider the audience. If you're shooting for the youth demographic, inviting the angry-tweeting, grab-them-by-the-p*ssy bragging, birther-conspiracy peddling head of state is decidedly not a good idea. Young Americans do not like Donald Trump, to say the least. The 18-29 demographic loathes him; according to a recent Gallup poll, his approval rating among that age group is a dismal 20 percent. That fell from 34 percent in April, according to Newsweek.
And I doubt he would fare any better with the 12-17 set. After all, this is the most ethnically and racially diverse demographic in the U.S., so it's hard to see how a guy who wants to build a wall, who has semi-regularly called women pigs and dogs, and who defended white supremacists, saying some are "very fine people" would be welcomed by a group of screaming teens.
Unless, you know, they were screaming expletives at him.
But that's not the point of the show. The point of the show is to scream for the famous people who show up in Times Square and promote their movies and music. The point of the show is to watch it after school on a small, low resolution television, and angrily wish you were the 15-year-old girl who was pulled out of the audience at random to meet Mariah Carey while sobbing. But I digress.
Trump's open invitation isn't the only aspect of this reboot that doesn't pass the sniff test.
In the Fader interview, Lewitinn was asked to address concerns about whether or not TRL would invite "known abusers of women" onto the show. Would TRL allow problematic personalities to come to Times Square, or would they take a stand? Lewitinn answered,
I'm not sure I want to answer that question. We want to be on what pop culture wants. When it comes to something like that, it's something that we would have to look into. It's a tough question to ask, I can't answer that question until something like that happens.
If you ask me, this statement suggests that as long as these problematic artists are popular, they'll have a place on TRL. This kind of attitude -- welcoming problematic people into these spaces -- could teach kids that maybe abusing women is cool as long as you're a good artist.
Refusing to address problematic possible guests -- and inviting Trump -- also doesn't quite jive with the idea that TRL is on the forefront of youth culture -- which includes "the idea of woke." Lewitinn said,
It goes back to the idea of us being a youth culture show. Youth culture envelopes a lot of things. The idea of woke is about culture and what's happening right and that's the intent of the show, to be on the pulse. I know everyone says that but MTV has always been on the forefront of that kind of thing, TRL was always on the forefront. It's our responsibility to see what's happening and what's on the mind of people who are watching.
There's nothing more out-of-touch -- or cringeworthy -- than a middle-aged media executive talking about being "woke." (Also, uh, that's not what "woke" means.)
And though we don't know about the format yet, I can't see the show working in 2017.
When I was A Youth, back in the halcyon, early 2000s days of TRL, the show had a specific function, which is, I think, now obsolete.
There's a reason the show ended in 2008 -- just as social media and cell phones were starting to become ubiquitous. When you have social media -- Twitter, Instagram, Facebook -- you can interface with celebrities in a way that the live show never could have conceived of when it started in 1998.
One of the draws of TRL was that the celebrities were right there, instead of in a magazine or what have you. You could almost touch them. (And some of the lucky audience members did.) And you could learn about their personal lives during short interviews and the silly games (thanks, Carson!). Stars, they're just like us!
But that's not necessary anymore when you have celebrities willing to share directly with their fans. As for the music videos, hello YouTube. Amirite?
I'm not sure the gravity which TRL held for my generation will translate. This show was American pop culture for years.
OK. Fine. To be honest, I'm only bitter because Carson Daly is on The Today Show now. If you bring back Carson, maybe we can talk.