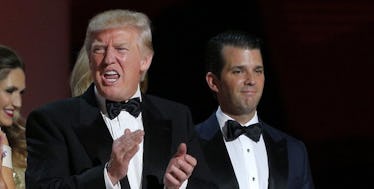 Donald Trump Jr. Is Now A Hilarious Meme, Thanks To This Outdoorsy Photo
REUTERS
You know that one awful photo of yourself that keeps coming back to haunt you? Turns out Donald Trump Jr. has one too -- and it's way, way worse than yours.
It's basically him perched awkwardly atop a tree stump dressed in offensively bad garb.
Look at it. LOOK AT IT:
The picture was taken by a New York Times photographer and I'm not too sure what kind of vibe he was trying to achieve. Was he going for 1970 porno shoot or "American Horror Story" opening?
I think it actually makes him look like the worst dressed wildling in all the Seven Kingdoms.
Mike Briggs brings up a very valid point:
I think they're Timberland boots. But, my God, aren't they just dire?
And the dragging only got worse from there. Some people tried to enhance the outdoorsy experience:
Then there was this strangely poetic comparison:
Others took the opportunity to remind us it's probably not the most bizarre pic in Trump history.
But mainly, people were confused and intrigued by his sitting style. He makes it look like the biggest chore.
To be fair, it's almost kind of sinister.
Bring your son to work day be like:
Enjoy the most amazing "who wore it best?" competition:
FYI, he can stand, too, but it looks just as awkward.
The interview explores Donald Trump Jr.'s relationship with his father. He explains it's not easy being Trump and he's done his best to carve his own path in this world and not live off the name.
He even gets personal, telling us about the time he got arrested while going ham in New Orleans. He says,
I think, like anyone else, I made my mistakes. We have to be honest with ourselves. I'm not good at it, moderation. You have to have the conversation, be a realist, and say, 'I guess I'm not doing myself any favors.'
Sorry, though, you're always going to be your father's son in our eyes. [video id="1761361"][/video]
Citations: Donald Trump Jr.'s Bizarre 'New York Times' Photo Is Getting Dragged On The World Wide Web (BroBible)