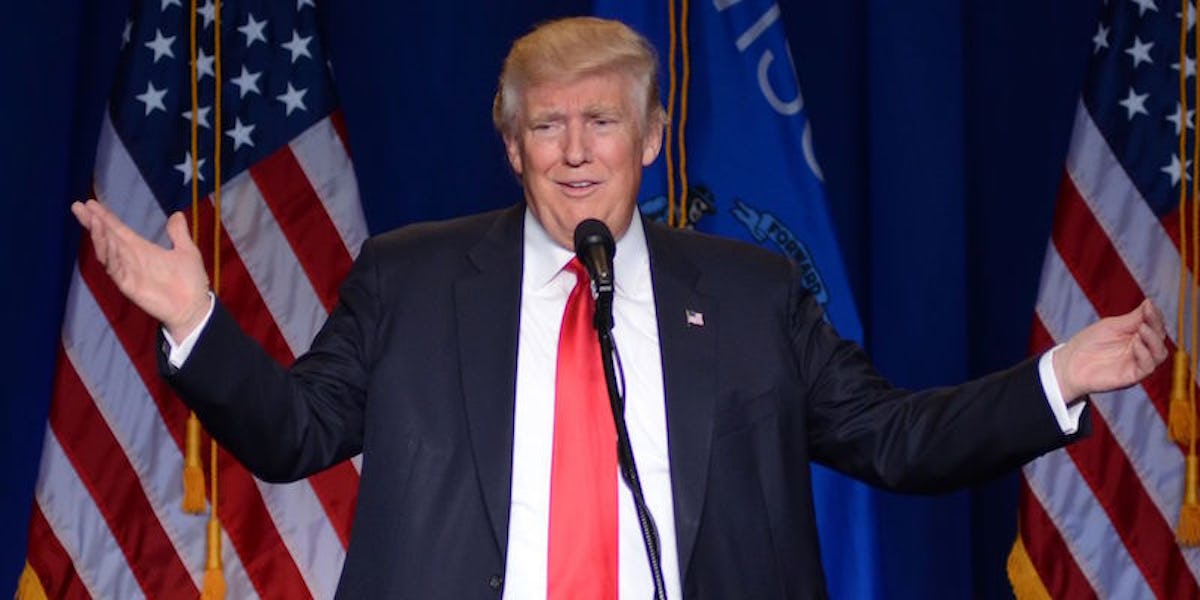 Donald Trump Plans To Take Down Hillary Clinton With A New Snapchat Filter
REX/Shutterstock
Donald Trump just hit a new low, everyone... and your geofilter is involved.
Let me explain: During the past few months, we've all seen the self-righteous Republican nominee turn to social media in order to bash Hillary Clinton. He's especially fond of Twitter.
In the off chance you've been living under a rock and haven't witnessed the presidential cyber bullying, Trump likes to call his competitor "Crooked Hillary" in a bizarre attempt to turn Americans away from the Democratic nominee.
Mature, right? LOL. Just kidding.
And as tonight's presidential debate grows closer, The Donald is slowly realizing that Twitter-bashing is simply not enough to gain votes from undecided Millennials.
Apparently, there was only one way to turn: Snapchat.
It's true: In order to win over voters on social media, Trump's campaign has created a Hillary-bashing geofilter that will be live on the app starting at midnight on Monday, and will continue throughout the debate.
The filter showcases a "patriotic" banner across the screen that reads "Debate Day: Donald J. Trump vs. Crooked Hillary" at the top and his slogan, "Make America Great Again," at the bottom.
Innovative or offensive? You decide.
Either way, the filter will be changed during the actual debate so that Hillary's name is not directly attacked.
But before we start getting too offended, we mustn't forget that Hillary Clinton hasn't proven to be an angel on Snapchat either. She has used her Snapchat stories to ridicule the Republican nominee in the past.
But at least she hasn't created a filter directly bashing his name.
Are we even surprised that Trump went there, though?
In case you were wondering if you need to be in a specific region for the filter to work, the answer is "no."
Trump's campaign was able to purchase the filter so that it's available anywhere in the United States. This makes him the first presidential nominee ever to purchase a national Snapchat filter, according to TIME.
Why though, Donald? What's your objective here?
According to the Independent Journal Review, the Republican nominee's goal is to gain votes from Millennials using Snapchat.
Given that Millennials are pretty obsessed with Snapchat, could it actually work? Maybe. Maybe not.
Go check your friends' stories and decide for yourself.