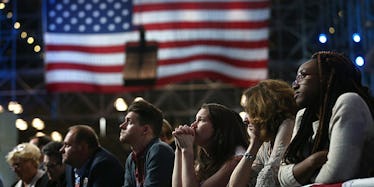 Why Donald Trump's Election Is Surprising To Everyone Except Black Americans
REUTERS
Black Americans who know their history already know what this feels like.
This is not electing a president who had no prior political or military experience.
This is witnessing the second loss of a candidate who won the popular vote.
Both of those things are new to Millennial voters.
This is actually what always happens shortly after black people in America experience a monumental feat of progression: the backlash.
History shows, whenever Black People progress, this country punishes them for it. https://t.co/jT6kSuMcFC — Reagan Gomez (@ReaganGomez) November 9, 2016
It's one of the more undeniable yet least talked about trends in American history, but it happens time and time again.
And the greatest instances of this phenomenon are easy to trace.
After the emancipation and the Civil Rights Act of 1875 came segregation and Jim Crow laws.
After the civil rights movement came a wave of mass incarceration.
And after the election of the nation's first black president, who was helped by record highs in African-American voting, came the 2016 election.
None of us can look into the future, so it's impossible to say what Donald Trump will actually do once he's in office.
With no record of service in public office, he is the wildest of wild cards.
But what makes Trump's election worth mentioning as part of this historical trend of backlashes is how his campaign actually played out.
This election was the first of this century in which white nationalism was a central theme.
The name of the Ku Klux Klan became relevant again.
"Law and order" was prescribed as a remedy for trouble in the inner cities.
Most importantly, though, it was the first election that transpired in the absence of the Voting Rights Act of 1965.
That's because in 2013 (right after Barack Obama won his second term, incidentally) the Supreme Court struck down a major component of VRA.
Certain states that have history of voter discrimination no longer had to meet federal standards to make changes to certain voting practices -- where polls would be placed, how long they would be opened, etc.
An overview of the Supreme Court's decision summarized Justice Clarence Thomas' opinion on the matter:
The blatant discrimination against certain voters that Section 5 was intended to prohibit is no longer evident.
And yet, since then, in states like North Carolina, which Trump narrowly won, the Republican party has tried repeatedly to impose measures that have been ruled to be discriminatory.
As more and more numbers come out in the coming days, we'll see exactly how the absence of a key part of the Voting Rights Act affected the election.
As for what this election itself is, we already know. The picture looks too typical and familiar.
It's just what happens to transpire after black progress in America.
Citations: The Atlantic