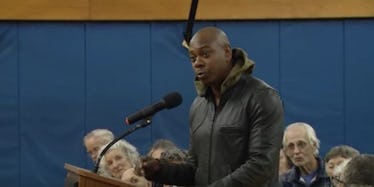 Dave Chappelle Takes On Police Brutality Under Trump With Emotional Plea
YouTube
On Monday, comedian Dave Chappelle addressed the city council in Yellow Springs, Ohio — the small, majority white, liberal town where he lives — about police brutality and the need for "progressive law enforcement."
There was an incident on New Year's Eve in the town, which Chappelle referred to as a "huge gaffe," in which police were reportedly very aggressive, tried to disperse crowds with their vehicles and at one point used a taser against two black men.
The police chief in Yellow Springs ultimately resigned as a consequence of this.
According to Yellow Springs News, the celebration occurs every year and is typically very peaceful, and many residents were very disturbed by how police behaved.
Speaking on the incident, Chappelle said that he was thankful for times police in the town intervened on his behalf in the past, and added,
In all fairness, the crowd was drunk … because it was New Year's Eve. And I left early, because nobody felt completely right. So I am trying to be balanced and fair.
But, he's concerned that the nature of policing in his tight-knit community has changed, in the sense there was a time it felt as if everyone in the community knew one another, including the police.
In Chappelle's view, that's changed. He said,
Now we are being policed by what feels like an alien force.
Chappelle "beseeched" the city council to think hard as it looks for a new police chief, and, in a sense, seemed to advocate for community policing.
Local politics reigns supreme.
In particular, Chappelle emphasized the importance of local politics having an influence on policing, especially with Donald Trump as president.
He said,
The council has a tremendous opportunity to be a leader in progressive law enforcement. [...] I would beseech the council to look deeply and to look hard, because this is a golden opportunity. Literally, it could kill the game. In this Trump era, it gives us an opportunity to show everybody that local politics reigns supreme. We can make our corner of the world outstanding. So I'm just begging you to find a candidate that matches the culture of this town, which is renowned for being incredibly unique.
A lot of towns across America could likely benefit from embracing this perspective.