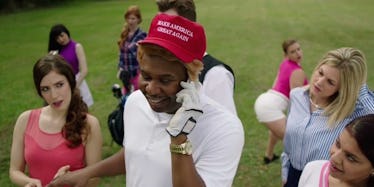 This Rap Made Up Of Donald Trump Quotes Is Absolutely Hilarious
YouTube
Rap music is probably the last thing anyone would associate with Donald Trump.
But on Thursday's episode of "The Daily Show with Trevor Noah," correspondent Roy J. Wood perfectly explained to host Trevor Noah why the real-estate mogul is basically a rapper.
Wood said,
Trump doesn't belong in the White House. Donald Trump belongs in a rap video. Everything Trump says is straight out of a rapper's play book. He brags about his money, he's disrespectful to women and there's always fights at his concerts.
When you stop to think about it, he makes a good point. His argument is shockingly accurate.
Wood then claimed,
You could make an entire rap song with just Donald Trump quotes. All you need is a dope beat.
"The Daily Show" correspondent isn't all talk, either. He actually made a rap music video using Trump quotes as lyrics, and for that, we are incredibly thankful because it's absolutely hilarious.
The song is called "They Love Me," and the video stars Wood in the satirical role of "Black Trump."
Watch the music video for the song above. Warning: It's very catchy.