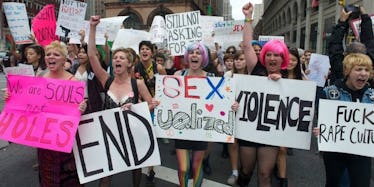 Criticizing The 'Women's March' For Its Name Is A Complete Waste Of Time
REX/Shutterstock
To be clear, there are lots of interesting talking points surrounding the historic Women's March on Washington this Saturday.
The name, however? Yeah, that's not one of them. You wouldn't know it, though, if you judged by some of the criticism the march has received for its branding.
Let's start with one of the more popular points of criticism: that the name discourages men from joining the march, as argued by NY Mag's Jonathan Chait.
Now, can we be honest? There's something to what Chait is saying.
There are some people who will stop and scratch their heads at the name of a movement, if it rubs them the wrong way, instead of showing support for the core values of the movement.
You need to look no further than Black Lives Matter, a movement which some people still have to defend by explaining why it's not racist, because it exclusively mentions black lives.
We can also be honest for another moment and admit this: confusion over movement titles is born out of pure ignorance.
It's obvious, of course, to anyone who has bothered to consider the way black lives are treated in this country and worldwide, why a group of people would go out of their way to emphasize concern for those same black lives.
Similarly, it's obvious, to anyone who is attentive to the types of challenges that people who fight for women's right face, why a movement would want to emphasize women in its title.
ALL ARE WELCOME TO MARCH ON JANUARY 21! Men that means you too! #WomensMarch — Women's March (@womensmarch) January 20, 2017
Mind you, there are plenty of good reason to scrutinize the march. Even one of the organizers hinted at that. Linda Sarsour, a national co-chair for the Women's March on Washington, and a Muslim American, told NY Mag,
As women of color who came into this effort. We came in not only to mobilize and organize but also to educate, to argue that we can't talk about women's rights, about reproductive rights, about equal pay, without also talking about race and class.
Yes, whether these women adequately make a nod to those issues is something legitimate to question. But we haven't really gotten a chance to have an intelligent discussion around that.
Rather, because of our own ignorance to what is obvious, we have to stop and discuss why women who feel a credible need to march should attribute their gender in the name of their movement.
What a waste of time.