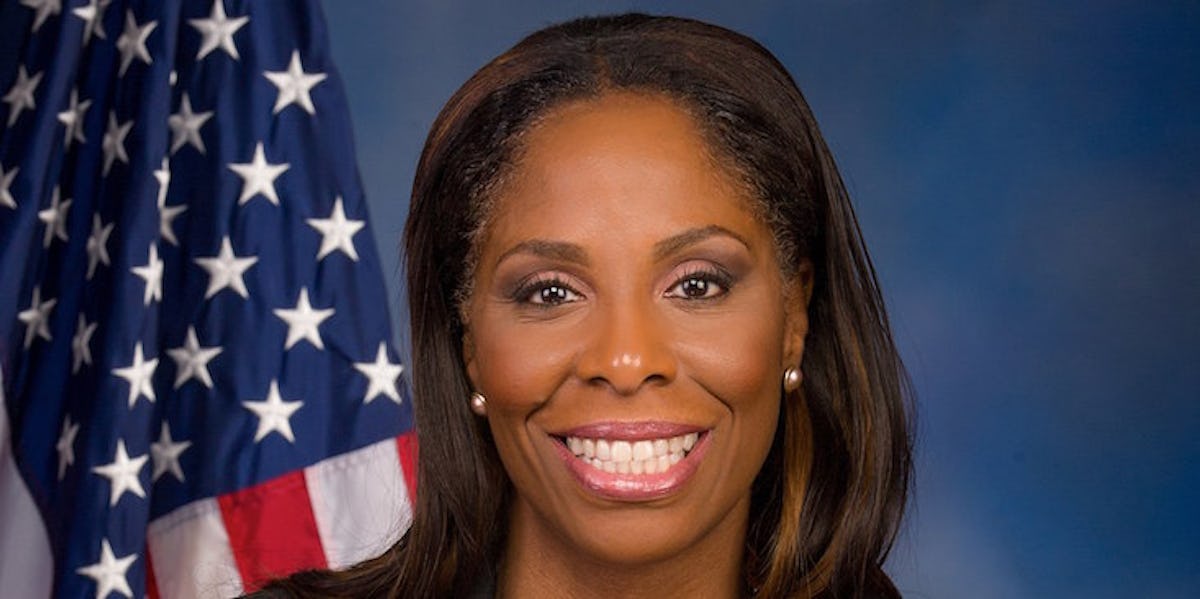 Congresswoman's Stolen Nude Pics Show What's Wrong With U.S. Politics
U.S. House of Photography / Wikimedia Commons
The Department of Justice (DOJ) announced on Thursday, July 13, that two former employees of a member of the U.S. House were indicted on federal cyberstalking charges for disseminating "private, nude images and videos" of the member and her spouse in 2016.
Though the official DOJ statement does not name the Congressperson who was victim, Rep. Stacey Plaskett, Delegate for the Virgin Islands, made a statement on the occurrence.
The private images and videos were distributed in July 2016. Following their release, Plaskett acknowledged them and made a statement to Politico for its report at the time.
According to the DOJ, the two individuals indicted are Juan R. McCullum, 35, of Washington D.C. and Dorene Browne-Louis, 45, of Upper Marlboro, Maryland. McCullum offered to take his boss's iPhone to the Apple Store for her to get it repaired, but was not given permission to access or distribute any materials. A couple of months later, the statement reads,
McCullum left the House member's staff, he engaged in a course of conduct that included creating a Hotmail account and a Facebook social media account, using a fictitious name, to distribute and post the private images and videos. Further, according to the indictment, he encouraged others on social media to redistribute the images and videos in the member's congressional district.
This kind of exploitation and circulation of personal materials online is not limited to politics, certainly. But it's particularly devastating that a congresswoman like Plaskett was subjected to this treatment. Life as a woman on Capitol Hill is already hard enough.
While sexism in politics has been all too often swept under the rug, recently, many Congresswomen have come forward about their experiences of harassment, including Senators Kirsten Gillibrand, Democrat of New York, and Claire McCaskill, Democrat of Missouri.
The situation in Washington has been described as a "Wild West" scenario, where the supervision and rules for workplace policies are less stringent, as the Times reports. According to the article, Hill staffers and congresswomen alike often develop thick skins to the behaviors that permeate their offices on a daily basis.
Of course, harassment isn't only happening by men to women. But male-to-female harassment is certainly easier to normalize when the vast majority of Congress is male.
It's no secret that Congress has historically been male-dominated. The November 2016 election was a bust in terms of adding more women to the roster, Fortune reports. Currently, women still comprise only about 19 percent of congressional seats. This is hardly surprising.
Gender gaps persist in numerous fields, as seen in research by the American Association of University Women. One factor to blame is the harassment and bias women face when they're in them. If you're routinely the only woman in an office, it's tempting to jump ship to a safer field where you can work in peace -- without comments, groping, or worse.
Though things are getting better with more women making up the office staffs, there's still a serious imbalance in where these women are concentrated and the level of positions they are given, The Washington Post found.
Plaskett, in her statement last year to Politico, said,
I am shocked and deeply saddened that someone would stoop to such a level as to invade my marriage and the love of my family in an attempt to besmirch me politically.
But whatever the motivation for such a horrible act, the staffers paid their due.
Hats off to Plaskett -- and all the other individuals who endure harassment as part of their daily job -- for continuing their service in spite of it all. (And a special shout-out to the member of the U.S. military, where rates of assault and harassment are at record highs.) The least we can do is return the favor by providing safe environments, taking their harassment cases seriously, and, yes, adding more women to the mix.