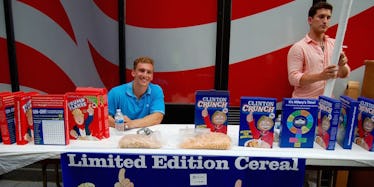 This Guy Found A Genius Way To Raise Money For His Tuition At The Conventions
Dan Malafronte, 21, had a brilliant idea how to help pay for his college tuition: He'd make political novelty cereal boxes.
Amidst the bustle surrounding the Republican National Convention in Cleveland, Ohio, Malafronte stood out from the many other politically-themed vendors hawking "Make America Great Again" hats.
Malafronte and his friend, Darrin, 27, are selling boxes of cereal that they designed. (Another friend designed the back of the boxes.) It's definitely an innovative idea.
Malafronte told Elite Daily,
Politics is so serious and cereal is something that's obviously an everyday item. So when you make a play on it and it's funny, people seem to really be attracted to that kind of thing... something that's so everyday that's different, it kind of catches people's eyes.
Malafronte and his friends personally made 1,000 boxes of "Trump Flakes" and "Clinton Crunch." The boxes look like real cereal, but have funny political twists. The Trump cereal, for instance, says on the back,
Stop wasting your time on those loser cereals and invest in something with real flavor and a really GR-R-REAT business track record.
They designed the boxes, got generic cereal, stuffed and closed the boxes, and are now selling them.
So far, they've sold 400 boxes in total. They sold 350 beforehand, and 50 on the first day of the Republican National Convention. Unsurprisingly, they said that the Trump cereal is more popular than the Clinton cereal in Cleveland. They'll be back selling at the Democratic National Convention in Philadelphia next week.
Each box costs $40. This may sound steep, but they're good at making their pitch. Malafronte said,
It's like a collector's box: You're not supposed to eat it. Imagine having a Ronald Reagan box from 50 years ago. It'd be worth a ton. This is kind of the same novelty experience.
The profits will go to recoup the initial costs (they used their savings), and then to pay for Malafronte's tuition at Brookdale Community College.