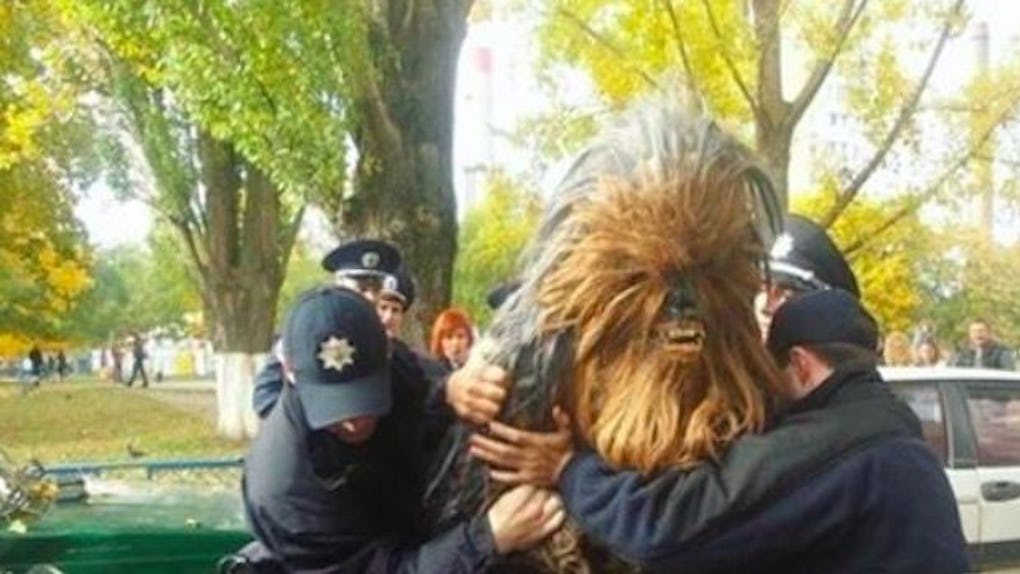 Instagram
'Chewbacca' Arrested For Publicly Campaigning For 'Darth Vader' At Polls (Video)
On Sunday, Chewbacca was arrested at a polling station in Odessa, Ukraine while campaigning for Darth Vader.
Apparently, the famed Wookiee and copilot of the Millennium Falcon was in violation of a law prohibiting public campaigning on election day. He also reportedly failed to produce valid identification after driving up to the polling station with Darth.
Chewbacca was fined around $8 after being arrested, NBC News reports. It seems the laws of Earth are much more stringent than those "in a galaxy far, far away."
OK, I admit it. It wasn't actually the real Chewbacca but rather a man in a costume. But one can dream, right?
The "Chewbacca" in question was reportedly there to support "Darth Vader" (sadly, also not the real Darth Vader), a Sith Lord mayoral candidate running as a member of the Ukraine Internet Party.
According to a statement released by the Ukrainian police involved, "Chewbacca" drove "Darth Vader" to the polling station, where he was ultimately apprehended. According to The Guardian, the statement reads,
Nothing unusual here, just Chewbacca detained for being without documents while driving Darth Vader to the elections in Odessa. The Sith Lord has already claimed this was illegal as Chewbacca is his pet and general servant and thus does not require documents.
As a consequence of the incident, "Chewbacca" was eventually seen in court, perhaps for the first time in history.
Chewbacca in court after being nabbed for illegal campaigning. #onlyinukraine h/t @OnlineMagazin pic.twitter.com/tZ9MYJhPrw — Natalia Antonova (@NataliaAntonova) October 25, 2015
Chewbacca appeared in court today in Odessa and was fined $7.50. Ukraine: never boring. (via @ItsBorys) pic.twitter.com/uo57cdJl6H — Shaun Walker (@shaunwalker7) October 26, 2015
This was a lighthearted moment in local Ukrainian elections, which have been hampered by everything from claims of voting fraud to all out brawling. It also comes not long after a statue in Odessa of Vladimir Lenin was transformed into Darth Vader.
In spite of the complex political troubles the country faces and an ongoing crisis in the east, it seems The Force is strong with Ukraine.
Watch footage of the historic arrest below.
Citations: Chewbacca Arrested at Polls on Election Day in Ukraine (NBC News), Ukrainian Lenin Statue Turned Into Darth Vader (Time), Ukraine conflict Guns fall silent but crisis remains (BBC News), Chewbacca in court over lack of ID while driving Darth Vader to Ukraine election (The Guardian)