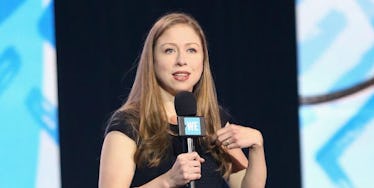 Chelsea Clinton Slammed Trump For Blocking A Woman With Cancer On Twitter
Monica Schipper/Getty Images for We Day
Chelsea Clinton is making a name for herself on Twitter as she continues to write comeback tweets that have dissed almost all members of the Trump family. On Wednesday, Sept. 20, Clinton tweeted about Donald Trump blocking a woman with stage four cancer when she criticized the GOP's latest health care plan. Laura Packard, the woman whom Trump blocked, had tweeted about the dangers of Republicans repealing Obamacare with the Graham-Cassidy Amendment after Trump tweeted in support of it -- only to find that the president blocked her account.
If passed, the Graham-Cassidy bill would cost $215 billion dollars in collective funding over the next ten years, according to a new analysis by nonpartisan consulting firm Avalere Health. Additionally, it would cost an estimated 32 million people could lose health coverage, according to an analysis by former acting administrator for the Centers for Medicare and Medicaid Services, Andy Slavitt.
Packard, who is a self-employed consultant in Las Vegas, told ThinkProgress, "I didn't sleep too well because of the cancer. But I don't know if he just woke up on the wrong side of the bed today or what."
In response to the news that Trump blocked Packard, Clinton tweeted,
The President shared a GIF of him hitting a golf ball at my mother & I didn't block him (though I did wish he had been focused on the UN).
Her tweet referred to Trump's shocking Sunday morning retweet of a gif of him hitting Hillary Clinton with a golf ball.
Clinton has been known for adding fuel to the fire on Twitter drama and defending not only her family, but even Barron Trump, when she feels it is necessary. When The Daily Caller criticized Barron Trump's attire for being inappropriate as the president's son, in their opinion, Clinton stood up for him on Twitter writing, "It's high time the media and everyone leave Barron Trump alone and let him have the private childhood he deserves." It is clearly something she can be sympathetic towards, considering she has two parents who served as public figures in the White House and still remain in the lime light.
In the wake of the Charlottesville protests, Clinton also slammed Trump on Twitter for refusing to condemn white supremacy initially, and for claiming there was violence on "many sides." Clinton wrote, "We must always take sides. Neutrality helps the oppressor, never the victim. Silence encourages the tormentor, never the tormented." She went on to say, "There's no compromise with bigotry. The 14th Amendment repealed the abomination of the Constitution's "3/5ths compromise."
Meanwhile, Packard isn't the only one who publicly criticized the proposed Graham-Cassidy bill. On Friday afternoon, Senate Minority Leader Chuck Schumer warned the Twitter world that it wasn't too late to make our voices heard in regards to this bill, which could seriously cut federal health-care spending:
In a statement regarding the new health care proposal, Avalere's Senior Vice President Caroline Pearson says,
The Graham-Cassidy bill would significantly reduce funding to states over the long term, particularly for states that have already expanded Medicaid. States would have broad flexibility to shape their markets but would have less funding to subsidize coverage for low- and middle-income individuals.
As the health care debate goes on, Clinton continues to maintain an advocate-like stance on Twitter, while coming off as direct, yet not aggressive -- which is not an easy thing to do on social media. She has proven that she will defend topics like health care, condemning white supremacy in the name of the Constitution, and even the media, for the sake of the president's son. Clinton defends the side of justice in sometimes a matter-of-fact fashion, and others through subtleties and sarcasm. Either way, the Twitter world needs more of Clinton's comebacks in the future.