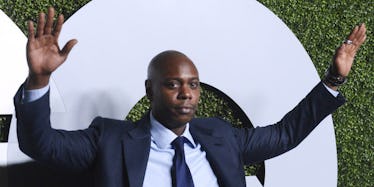 Chappelle Says He Voted For Hillary But Media Hyped Trump's 'Pussy' Remarks
REUTERS
Dave Chappelle voted early for Hillary Clinton in Ohio, but that doesn't mean he's her biggest fan.
The comedian is set to host "Saturday Night Live" on November 12 and he's been gearing up for it with a series of surprise shows at The Cutting Room in New York.
At his show on Friday night, Chappelle got extremely political and spent the majority of his set bashing Clinton.
He even defended Trump at one point, according to the Observer.
She's not right and we all know she's not right.
The audience was apparently pretty shocked.
Chappelle said he "didn't feel good" about voting for Clinton, adding,
She's going to be on a coin someday. And her behavior has not been coin-worthy. She's not right and we all know she's not right.
Chappelle seems to be among the many Americans who aren't exactly thrilled about voting for Clinton, but think she's the logical choice over Donald Trump.
He described why he supported Clinton with a pretty graphic analogy. He compared voting for her to having Halle Berry fart in his face during sex:
I'm still going to go for it. But I wish she hadn't done that thing.
By "that thing" Chappelle was referring to his belief Clinton was involved in leaking the tape in which Trump said:
You know I'm automatically attracted to beautiful — I just start kissing them. It's like a magnet. Just kiss. I don't even wait. And when you're a star they let you do it. You can do anything… Grab them by the pussy. You can do anything.
Chappelle said,
What I heard on that tape was gross. But the way I got to hear it was even more gross. You know that came directly from Hillary.
There is no evidence to support Clinton played a role in the tape getting leaked.
Chappelle also argued the media overhyped what Trump said,
Sexual assault? It wasn't. He said, 'And when you're a star, they let you do it.' That phrase implies consent. I just don't like the way the media twisted that whole thing. Nobody questioned it.
Sorry, Chappelle, but no.
The mainstream media definitely has a tendency to sensationalize, and there are certainly many instances in which coverage of important topics is blatantly biased.
But what Trump said unquestionably constitutes sexual assault.
Consent requires communication.
Here is how RAINN (Rape, Abuse & Incest National Network), defines consent:
Consent is an agreement between participants to engage in sexual activity. There are many ways to give consent... Consent doesn't have to be verbal, but verbally agreeing to different sexual activities can help both you and your partner respect each other's boundaries. When you're engaging in sexual activity, consent is about communication. And it should happen every time.
So, just to be totally clear:
Grabbing women "by the pussy" without communication is sexual assault.
What Chappelle said is dangerous.
It wasn't long ago he was the most famous comedian in the country, and he's still widely respected and looked up to by a lot of people.
We're not mad, Chappelle, we're just really disappointed.
Chappelle should know better. After all, he once did a sketch about consent on "Chappelle's Show."
Hopefully, people will realize what Chappelle said was wrong, and also follow the comedian's advice about not caring what celebrities have to say about important issues.
If you're still confused about what consent really means, this video offers a good summary.
Communication is important in all walks of life, but especially when it comes to engaging in sexual activity.