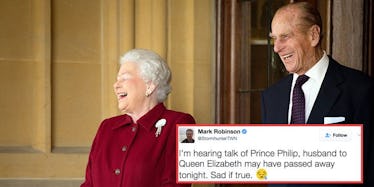 Buckingham Palace Held An Emergency Meeting And Twitter Was Fearing The Worst
Getty Images
Without any public explanation, Buckingham Palace announced a sudden meeting late Wednesday night, and people began fearing the worst for Prince Philip.
Until the royal family provided an official reason for the gathering, rumors swirled that the 95-year-old prince and husband of Queen Elizabeth II had died.
An article that corroborated the rumors about Philip was even published by The Sun.
However, word eventually came from Buckingham Palace that rumors were far off the mark. Prince Philip is not dead -- he simply plans to retire in September.
An official statement read, per CNN,
Prince Philip will attend previously scheduled engagements between now and August, both individually and accompanying The Queen. Thereafter, The Duke will not be accepting new invitations for visits and engagements, although he may still choose to attend certain public events from time to time.
Philip, also referred to as the Duke of Edinburgh, has been married to Elizabeth II for the entirety of her 65-year tenure as Queen of the United Kingdom.
The prince will be celebrating his 96th birthday in June and his 70th wedding anniversary in November. By the time the latter of those events come around, he will be away from public life.
Meanwhile, Prince Harry is expected to assume Philip's duties, according to multiple reports.
As Mashable noted, the rumors about Philip's death gained steam as an apparent result of the manner in which different news sites reported the news of the palace's sudden meeting.
Many outlets passed on the news under a cloud of suspicion, with the Daily Mail citing a source that said,
Although meetings involving the entire royal household are occasionally called, the way this has been done at the 11th hour is highly unusual and suggests that there is something major to be disseminated.
By the early hours of Thursday morning, some sites had peddled the rumor of Philip's passing.
However, news outlets like The Guardian soon after reported that royal sources had provided assurance that there was "no cause for alarm" in regards to the Prince Charles' or Queen Elizabeth's health.
And just like that, the rumors were gone.