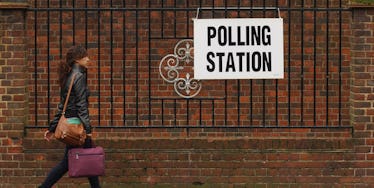 British Politicians Want To Lower The Voting Age, And It Could Be A Game Changer
Oli Scarff/Getty Images
Attention anyone who's ever silently fumed out of the ears at being told that "young people just don't care about politics": Five of the United Kingdom's senior politicians released an open letter in The Guardian on Tuesday, calling for British teenagers to be allowed to vote.
The letter called for the national voting age in the UK to be lowered to 16 precisely because so many young people are politically engaged. It began:
Something that should be welcomed by politicians from all parties in these febrile political times is the rise in young people's interest in politics. With turnout rising and excitement building, it's time to think boldly about enhancing our democracy.
The politicians are putting their money where their mouths are, too. The same day the letter was released, the five MPs — Caroline Lucas of the Green Party, Ed Miliband of the Labour Party, Ian Blackford of SNP, Jo Swinson of the Liberal Democrats, and Liz Saville Roberts of Plaid Cymru — all signed an early day motion in Parliament to make the change happen.
So what could happen if more teens had the vote? (I mean, it's already legal for 16-year-olds in the UK to drink beer and wine, so that's already out of the way.)
In some pretty big recent elections, young people have tended to vote against the ultimate outcome.
For example, in the 2016 Brexit vote, in which the UK voted on leaving the European Union, almost three-quarters of 18-24 year olds voted to Remain, according to the BBC. The "Leave" vote won.
A few months later, across the pond in the United States, the 2016 presidential election saw Donald Trump draw in only 37% of 18- to 29-year-old voters, according to the Brookings Institution. Despite that (and despite losing the popular vote as a whole) Trump still won the election.
And in real life, some British teens already have the right to vote. As the MPs point out, in Scotland, which is part of the UK, 16- and 17-year-olds already have the right to vote.
During the 2014 Scottish referendum, in which voters were asked whether Scotland should become an independent country, more than 70% of 16- and 17-year-olds voted to leave the United Kingdom. (Scotland as a whole voted to stay by a pretty comfortable margin, so clearly the teen vote isn't always going to swing it.)
But could more young voters have changed the course of Brexit, or the presidential election? We'll never know. But hey, could be worth finding out what they can change in the future.
Get on it, British teens. America will hold your (legal) beer.