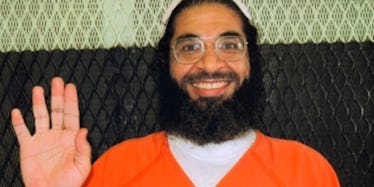 British Resident Held At Guantánamo For Over 13 Years Finally Released
After being detained for over 13 years, Shaker Aamer was finally released from Guantánamo Bay, the controversial detention camp in Cuba, The New York Times reports.
Mr. Aamer never stood trial and was never charged with or convicted of a crime. His detention was widely viewed as a gross violation of human rights and emblematic of America's dubious approach to combatting terrorism in the post-9/11 era.
In the hierarchy of evil, keeping people in a cage for 13 years with no trial - on an island - is high on the list https://t.co/WxhKMpVhNl — Glenn Greenwald (@ggreenwald) October 30, 2015
Aamer, a Saudi citizen and British resident, was reportedly flown to London after being freed. With his release, there are no longer any detainees at Guantánamo with ties to the UK.
Mr. Aamer's highly publicized case drew the attention of numerous activists and celebrities throughout his detention. Accordingly, while the US government is still being criticized for human rights violations at Gitmo, many are celebrating Aamer's release.
Shaker Aamer: Last UK Guantanamo Bay detainee released - FINALLY!!!! https://t.co/wah3eFi1GP — Cassandra Fairbanks (@CassandraRules) October 30, 2015
Great news. Huge congratulations to his family, Reprieve, Shaker campaign! Shaker Aamer released from Guantánamo Bay https://t.co/p1UJPoucEK — Jeremy Corbyn MP (@jeremycorbyn) October 30, 2015
Shaker Aamer was arrested in 2001 in Afghanistan and accused of fighting alongside al-Qaeda, an assertion he vehemently denied. He claimed he was there working with a charity.
Initially, Aamer was held at Bagram Airfield near Kabul, where he was allegedly tortured by the US. As The Guardian notes, this involved being forced to stay awake for days at a time, being denied food and being soaked with freezing water, among other forms of maltreatment and abuse.
In 2002, he was moved to Guantánamo, where he remained for well over a decade. His lawyers claim he faced abuse within the prison camp too, spending much of his time there in solitary confinement.
As The New York Times highlights, Shaker Aamer became somewhat of a leader among the other detainees at Gitmo, and at one point helped negotiate the cessation of a mass hunger strike.
In 2007, the US dropped the case against Aamer, but he remained at Gitmo as it seems the government was still worried he posed a threat. Two years later, he was approved for transfer, but still wasn't released.
After deliberating over whether or not to repatriate him to Saudi Arabia or allow him to return to the UK, as his lawyers requested, the US government finally freed Shaker Aamer. According to The Guardian, some believe both the US and UK governments delayed his release because what he has to say could embarrass and shame them.
Unfortunately, Aamer's story is hardly unique. He's a painful reminder of many of the abhorrent things the US did, and continues to do, in its efforts to respond to perceived terror threats following 9/11. The deeply unsettling revelations of the CIA torture report, released last year, come to mind in this regard.
There are still 112 individuals detained at Guantánamo Bay, a place long viewed as one of the most shameful products of the War on Terror. Of these 112 men, 51 have been approved for transfer and 61 are being held indefinitely without trial, The New York Times reports.
Gitmo, which was opened in 2002, has housed hundreds of alleged terrorists. Simultaneously, it's arguably diminished the global standing of the United States, while serving as a recruiting tool for terrorists, CNN reports.
Obama is right: Guantanamo is a "premier mechanism" for recruiting terrorists. Shut it! https://t.co/5iHSJ7s66C pic.twitter.com/zHEPU6jmaa — Kenneth Roth (@KenRoth) October 24, 2015
President Obama promised to close Guantánamo during his initial campaign, but continuously failed to do so throughout his tenure. Recent developments suggest his administration will attempt to close it by the time he leaves office. But it's difficult to feel optimistic about this actually happening.
Not long ago, the president said he regrets he didn't closed Gitmo on his first day in office. Indeed, he should've, and if he isn't able to by the end of his presidency, his legacy will be irrevocably tarnished.
Citations: Shaker Aamer Is Released From Guantánamo Prison After 13 Years (The New York Times), After 13 years, Shaker Aamer Is Leaving Guantanamo: Here are 5 Things You Should Know (Amnesty International), Guantanamo and Illegal Detention (Amnesty International), Shaker Aamer: the father who spent his son's life in Guantánamo Bay (The Guardian), Guantanamo Bay detention camp (Britannica), Obama makes final push to close Guantanamo (CNN), Close the Guantanamo Bay Detention Center (PolitiFact), Obama regrets not closing Guantanamo on first day in office (Washington Post)