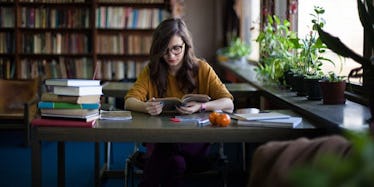 9 Powerful Books To Read If You're Feeling Anxious About US Politics Today
The library is a safe space for everyone roaming through the stacks.
The beautiful thing about them — and literature in general — is it doesn't discriminate.
But unfortunately, not everything in our world is as welcoming.
At a time in US history when so many characteristics — sexuality, nationality, gender — are separating us rather than uniting us, literature proves even if our personal stories are slightly different, it doesn't mean they're not all beautiful.
Here are nine reads that speak to what we're experiencing in politics today — from immigration to race to the fight for LGBTQ+ rights.
This captivating graphic novel is a unique memoir that allows us to follow Satrapi growing up in Iran during the Islamic Revolution.
Though at first glance it seems like a lighthearted comic, this 2004 release is actually a poignant tale of what happens when a country is affected by war and oppression.
Persepolis, $8, Amazon 
After the success of his 2015 novel, "The Sympathizer," Nguyen brings us his topical January 2017 release.
His latest is an accumulation of stories about identity and belonging that span over 20 years.
This includes a tale about half-sisters — one of whom has accomplished everything in America, and the other in Ho Chi Minh City, who will never be given the same opportunities — and the story of a Vietnamese refugee who's adjusting to life with two gay men in California, among others.
The Refugees, $15, Amazon 
3. "Luna" by Julie Anne Peters
This YA novel breaks barriers as it explores a transgender teen, Liam, coming to terms with his true identity — something he once only had the courage to reveal at night.
Readers journey along with Liam as he transitions to Luna — and all of the emotions that go along with the change.
President Barack Obama discussed his love of this book with The New York Times, noting how Diaz speaks "to a very particular contemporary immigration experience."
Arguably Diaz's most popular release — and a Pulitzer Prize winner — "Oscar Wao" is the story of a boy who made his way from Santo Domingo to Jersey and aspires to be the J.R.R. Tolkien of his generation.
And of course, he's searching for the same thing as all of us: love.
The Brief Wondrous Life of Oscar Wao, $8, Amazon 
5. "Americanah" by Chimamanda Ngozi Adichie
Ifemelu and Obinze are torn apart by a military-ruled Nigeria.
As Ifemelu heads to America and struggles with racism and Obinze lives undocumented in London, the two must make it on their own — until they're reunited back home.
Americanah, $8, Amazon 
The Riveras drop all they know in Mexico and head to the US after their 15-year-old daughter, Maribel, suffers from an injury that could possibly change her life — and theirs.
They head to America with the hopes of getting proper medical treatment for their daughter, and when the Riveras meet the Toros, their worlds collide.
The Book of Unknown Americans, $9, Amazon 
This collection of essays explores a father-son relationship and what it means to be a black man in America.
The author writes to his son about the past and present — from the Civil War to the Black Lives Matter movement, and everything in between.
Between the World and Me, $14, Amazon 
Mastai's debut follows along with our protagonist, Tom, who is living in a dystopian world where he has the power to change the course of history after he's transported to a "normal" version of 2016.
Which world will he choose?
All Our Wrong Todays, $18, Amazon 
Another father-son tale, but this time, with satire thrown in, "The Sellout" is the story of a California boy who loses his controversial socialist father in a police shoot-out.
This initiates his preposterous idea to reinstate slavery and segregation in his LA town, which ultimately lands him in the Supreme Court.
This scathing satire on race in the United States earned Beatty the Man Booker Prize — the first ever won by an American.
The Sellout, $10, Amazon 
Citations: 14 Novels About Muslim Life That Shouldn't Be Missed (BuzzFeed)