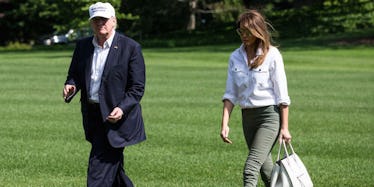 Body Language Expert Has A Dark Prediction For Melania And Donald Trump
Zach Gibson/Getty Images
Nearly six months after President Donald Trump moved into the White House, his wife Melania and son Barron have finally reunited with him. Does the move signal a turning point for the first couple's marriage?
People had a lot of speculation about what the change would mean for the administration and the relationship:
Body language expert Susan Constantine thinks, though the couple might have "had something at some point," whatever chemistry was there has evaporated.
I think it's gotten worse. At the very beginning, when should speak about her husband, she would stand up and speak on his behalf when he'd put his foot in his mouth, she was always there to support him. I think she's gotten to a place where, now, since he's become president, that already inflated narcissistic personality is out of control. I think he's not even somewhat available emotionally. He's just off on his own and she's kind of got her own world. It's so obvious when I see them in different scenarios, coming on the plane or off the plane, he just has no respect for her or any woman.
That the media has caught on to the tension between POTUS and the first lady, Constantine believes, has only furthered the rift.
Constantine says,
When the cameras are on, and he tries to hold her hand, I'm sure that he's now more aware that everyone's watching, that there's some discord or tension in that relationship, that he's now going to the next stage which is trying to show for the camera, let's make this look good. 
Melania, for her part, has shifted her reaction to her husband, says Constantine:
'Do not even hold my hand in front of public because I'm going to flick it off. Do not tell me I'm going to stand beside you because I don't want to do it.' [Melania]'s giving these gestures that's saying, 'I want everyone to know that I'm not agreeable. I am not here with you. We are separate people.' I think she's gotten to the point where you can only walk ahead of me so many times, you can only ignore me so much, she's basically saying, excuse my language, eff you.
What does this mean for the future? Well, according to Constantine,
I think she's a very unhappy person and I think their marriage is in deep, deep trouble ... You can see that this is all show, there's no connection. I just cannot imagine that these two are going to stay married; they don't have even the elementary foundation of couple love and compassion and physical-ness between them. There's none of that, I don't see it. I wish there were but, this might be the first presidential candidate in office that goes through a divorce at the same time during his candidacy.
Only time will tell how the first lady and her husband fare now that they're under the same roof again.