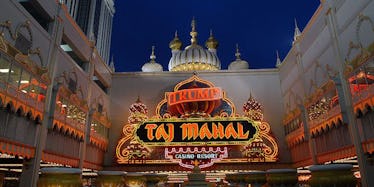 A Bunch Of Bizarre Trump Memorabilia Has Been Up For Auction Since The Election
William Thomas Cain / Getty Images
Turns out, there's a pretty steady market for Trump memorabilia on auction since the election, including all sorts of items related to the president. As of Aug. 4, for example, an item up for auction on eBay is asking $1,250 for a simple 8-by-10 autographed photo of President Donald Trump. Searching for autographed items on the popular auction site shows that's not even the highest price.
These Trump items for sale run the gamut from a few hundred to hundreds of thousands of dollars. Some basic, run-of-the-mill items are fetching enormous sums on eBay and at other auctions. On the site, a signed hardcover copy of Trump Surviving At The Top, a book co-written by Trump in 1990, was going for $20,000 as of Aug. 4. There's plenty more to be found, with prices ranging from a few dollars up to thousands, for memorabilia bearing the president's signature.
In July, a sketch of the Manhattan skyline that Trump drew went to auction, The New York Times reports. The simple silhouette, signed in Trump's unmistakable golden ink, fetched a whopping $29,000.
A set of golf clubs once owned by the president also went on auction in early July. The bids started at $9k, what Golf Digest called a "staggeringly high price," and NewJersey.com reports that they sold for almost $30,000 dollars.
This is the classic tale of a napkin drawing going for thousands. But the luxury goods, perhaps the most iconic for Trump, are actually underperforming.
A Ferrari owned by Trump went on auction in Florida in April, and it didn't do very well. Bloomberg reports that it actually undersold at auction, with final bids ending at $240,000, about $10,000 under estimate. The car eventually sold for a total $270,000 after auction, but that's still shy of the $350,000 upper end estimate for the sale.
Furnishings from the Trump Taj Mahal, one of Trump's real estate ventures in Atlantic City, went to auction in July, according to New York Magazine. The entire casino's wares, from poker tables to used hotel beds, were up for bidding following the sale of the failed casino to Hard Rock in March of this year. (That sale, by the way, went through for 4 cents on the dollar, the Los Angeles Times reports.)
In the New York Magazine article, tweets by attendees of the Trump Taj Mahal liquidation sale showed that some items were selling for less than $100, while others were listed for tens of thousands of dollars.
We're not saying everyone is running out to go bid on a used chandelier from a former casino. But if you're in the market, luxury items bearing some relation to the president are going for pretty cheap.
If, however, you've got any autographed napkins or copies of The Art of the Deal lying around, now's a good time to sell.