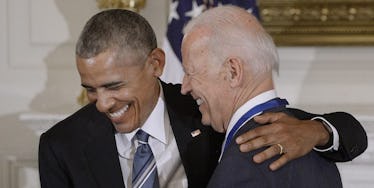 Biden Fans Want Obama To Resign On His Last Day For The Most Adorable Reason
REX/Shutterstock
Vice President Joe Biden fans -- which includes, like, everyone in America, right? -- really, really want President Barack Obama to resign on Thursday.
And that's not because they hate Obama and think he did a terrible job in office.
It's because they really, really love Biden.
You see, if Obama resigns from the presidency on Thursday, then Biden gets to take over as president of the United States.
Biden chose not to run for the presidency back in 2015. He and his family were still processing the death of his son Beau from brain cancer.
Biden said in October 2015,
As the family and I have worked through the grieving process, I have said all along and time again what I have said to others; that the process by the time we get through it, closes the window on mounting a realistic campaign for president. That it might close. I have concluded it has closed.
People are still holding out hope he will run for president in the 2020 election, although at that point he would be in his late 70s.
Biden said last month he would not be running for president in 2020.
All of that essentially means this Thursday is more than likely our last chance to see a Biden presidency happen. And the people really want it to happen.
But it's not just about letting Biden have a taste of the presidency.
Some people have thrown around the idea that Obama should resign and let Biden take the presidency. Then, Biden can appoint Obama to the Supreme Court (the 44th president is trained in the law, after all) and finally fill the spot Republicans have blocked for nearly a year.
These are, of course, pretty far-fetched ideas, but it would be pretty great.
But there's another, less serious reason people want to see this.
If Obama resigns and Biden becomes president, he'll be the 45th president. That means Donald Trump would be the 46th president when he is sworn in on Friday... and all of the merchandise printed with "45th president" will, technically, be ruined.
Will Barack Obama become our Troll-In-Chief for a day?
Citations: Joe Biden Not Running for President (ABC News), Biden: 'I have no intention of running' in 2020 (CNN)