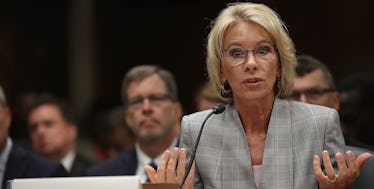 Betsy DeVos' Sued By 19 Attorney Generals Over Student Loan Protections
Win McNamee/Getty Images
Higher education is more expensive than it's ever been, rising at an average rate of 6 percent above inflation -- but many Americans still value higher education and believe it's the best means of improving economic circumstances. And many institutes of higher learning -- particularly for-profit schools -- have taken advantage of this belief, proffering programs that are often bad investments when it comes to post-graduate job prospects and loan repayments.
The meteoric rise and subsequent fall of predatory for-profit schools such as Corinthian Colleges, which targeted "nontraditional" students who were often older, employed full-time, and came from low-income backgrounds, came, in part, due to government intervention.
The predatory practices, misleading post-graduate employment rates, and high rates of loan defaults, among others, led both the Canadian and the U.S. government to investigate and subsequently shut down Corinthian Colleges and pass the Borrower Defense to Repayment rules.
The rules make it easier for defrauded borrowers to seek out debt forgiveness, and they prohibit schools from requiring private arbitration, which is costly and overwhelmingly works in favor of large companies.
But now Secretary of Education Betsy DeVos is trying to roll back those Obama-era rules, which were set to take effect on July 1. So 19 Attorneys General (AG), led by Massachusetts AG Maura Healey, have sued DeVos to keep the protections in place.
In a statement, Healey said, "Since day one, Secretary DeVos has sided with for-profit school executives against students and families drowning in unaffordable student loans."
In June, Healey led a coalition of attorneys general that filed a motion to protect the student loan protections after DeVos had made several statements casting doubt over whether or not the Department of Education would uphold the Obama-era rules.
The most recent suit claims that DeVos illegally delayed regulations.
The suit alleges that "taxpayers invested $32 billion in for-profit schools in the 2009-10 academic year, more than the annual budget of the U.S. Department of Justice and the U.S. Department of State during that time period." (Elite Daily reached out to DeVos' team for comment on the lawsuit claims, but did not hear back at the time of publication.)
It's no secret that student loan debt has plagued college graduates -- particularly millennials -- making it more difficult to gain economic freedom and participate fully in the economy. Graduates often feel like their lives are consumed by student loan debt, and millennials in particular have trouble keeping up with the high payments.
Millennials are often derided for not spending as much as past generations on items like diamonds and homeownership, and some of the more tone-deaf critics have blamed this on frivolous spending on things like avocado toast. But the reality is that the average student borrower has $31,100 in debt.
This is not the first time the Trump Administration has signaled that it will go after student loan borrowers. The White House's proposed budget for 2018 would slash the Department of Education's funding, stop subsidizing the interest on student loans, and eliminate the Public Loan Forgiveness program, which allows individuals to go into public service in exchange for student loan debt relief.