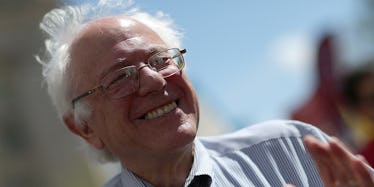 Young Bernie Sanders Was Actually Really Hot And No One Can Handle It
Getty Images
When you think of the best looking men on the campaign trail, Bernie Sanders probably isn't the first presidential candidate who comes to mind.
Most of us know Sanders as the wrinkled, white-haired Democrat from Vermont who looks uncannily similar to Doc Brown from "Back to the Future."
Yep, at the ripe age of 74, Sanders has certainly surpassed the eye candy expiration date.
But apparently, this democratic dude actually used to be pretty f*cking hot back in the day.
No really, I'm serious. Young Sanders was simply sizzlin'.
If you turn the clocks wayyyyyy back to when Sanders was just starting out on the path to political success, it appears this charismatic fella was pretty easy on the eyes.
In fact, we recently came across some photos of young Sanders that will really have you feelin' the Bern.
You may know Bernie Sanders as the old presidential candidate with the crazy hair...
No president alone can effectively address the issues facing this country without a political revolution. pic.twitter.com/m6IpuV7APQ — Bernie Sanders (@BernieSanders) January 7, 2016
...but it turns out Bern was quite a babe in his earlier days.
was bernie sanders once a hot, young jew? — avocados at law (@tracymbauman) December 25, 2015
Allow me to introduce you to the young Bernie Sanders.
Young,Bernie Sanders - Racial Equality meeting on housing sit-ins. 1962 pic.twitter.com/M3Y0yhNq2s — Elsa Marcia (@ElsMarcia10) October 15, 2015
It's almost hard to believe this old Democrat was once this damn sexy.
@ young Bernie sanders Hello pic.twitter.com/0kTZLBkJZR — am i really? (@Quasimodis) December 27, 2015
Apparently, I'm not the only one who's feeling young Bern.
Young Bernie sanders looks like a ugly-cute Jewish beatnik so he was totally my type — j (@highshwaisted) January 5, 2016
A lot of Twitter users also seem to have a crush.
young bernie sanders was hot as hell idgaf — hessi bean (@hessiccaaa) December 29, 2015
Yes, the thirst for throwback Sanders is seriously real.
A young Bernie Sanders looking like a fox pic.twitter.com/kXt9uoq1lW — redd boots (@redd_boots) October 29, 2015
But then again, you can't really blame the ladies for lusting after this eye candy candidate.
ok why was bernie sanders lowkey hot I gtg pic.twitter.com/a7jte1DJSa — mckenna (@mckennaidk) January 5, 2016
I mean seriously, just look at the irresistible smile on this stud.
I'd swipe right on you any day, young Sanders.
i'd swipe right on a young bernie sanders you would too, don't lie pic.twitter.com/APHkSSzalr — Taylor Trudon (@taylortrudon) January 5, 2016