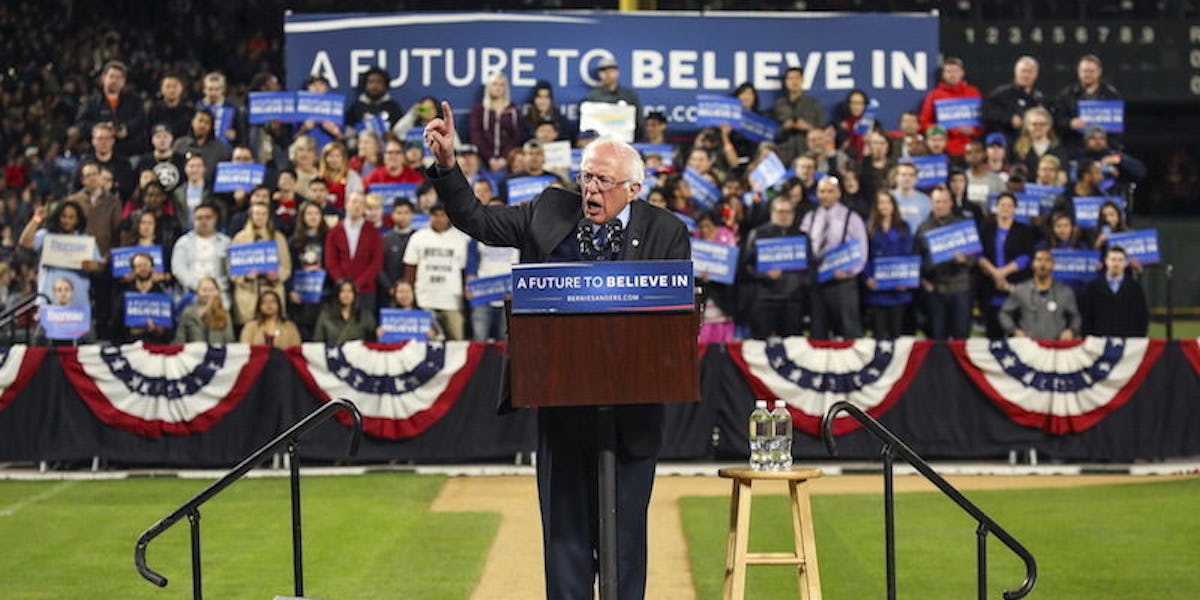 USA Is Feeling The Bern: Sanders Is The Most Popular Presidential Candidate
REUTERS / David Ryder
America is really feeling the Bern.
According to a new Associated Press-GfK poll, Bernie Sanders is the most liked presidential candidate. The poll of 1,076 adults was conducted online between March 31 and April 4.
The poll showed 48 percent of Americans view Sanders favorably, and around 39 percent view him unfavorably. This essentially makes the Vermont senator the most popular candidate from either party.
Comparatively, Democratic front-runner Hillary Clinton is viewed favorably by just 40 percent of Americans and unfavorably by 55 percent. Republican front-runner Donald Trump fared even worse; only 26 percent of Americans view him favorably, whereas 69 percent view the real estate mogul unfavorably.
Sanders is still trailing Clinton in terms of votes and delegates, but this poll suggests he could do better than her in a general election.
The poll showed 61 percent of registered voters would consider voting for him in November, while 38 percent said they'd never vote for him. Meanwhile, 51 percent said they'd never vote for Hillary, and 63 percent said they'd never vote for Trump.
Even though Sanders is clearly the most popular candidate, the poll also found more Americans believe Clinton is likely to win a general election. Around 80 percent said they believed she could win in November, while six in 10 Americans believe Trump or Sanders could win.
Still, Sanders won seven of the last eight Democratic contests and has a lot of momentum prior to the New York primary on April 19. He has a tough road ahead, but the impassioned Brooklyn native definitely has a fighting chance.
Mr. Popular could become Mr. President.
Citations: SANDERS LAGS IN DELEGATES BUT LEADS IN LIKABILITY (Associated Press)