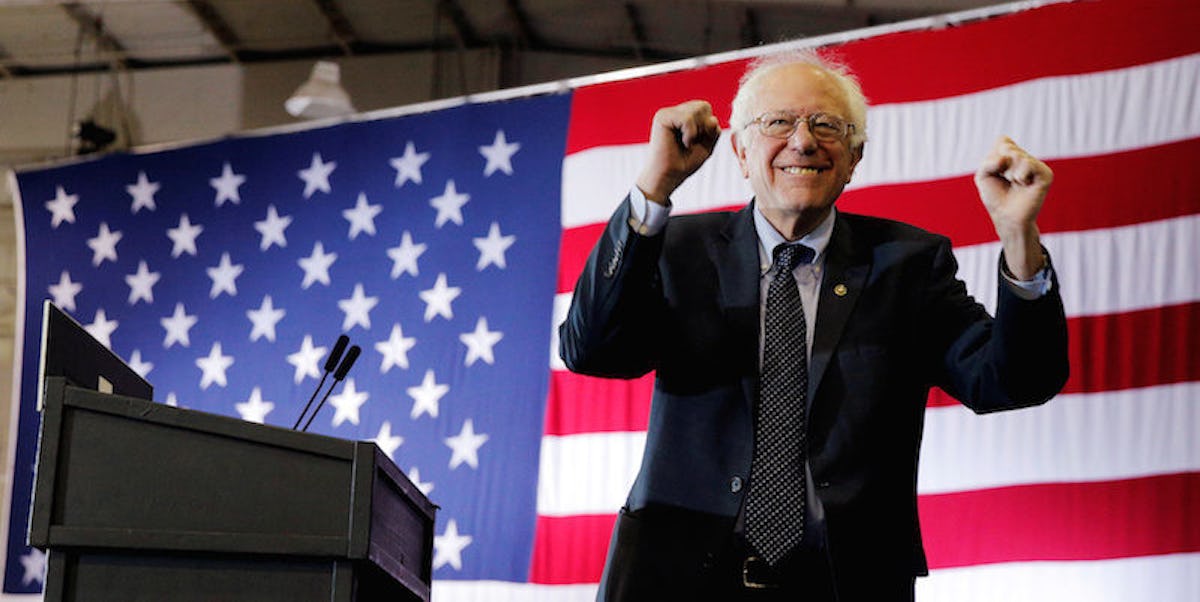 The First US Senator To Endorse Bernie Has A Message You'll Want To Hear
REUTERS/Brian Snyder
Senator Bernie Sanders officially just received his first endorsement from a fellow Democratic senator.
On Tuesday, Oregon Senator Jeff Merkley endorsed Sanders via an op-ed published by The New York Times.
This is a fairly big deal as it signifies Sanders is beginning to win over members of the Democratic establishment, most of whom pledged support for Hillary Clinton.
Merkley's endorsement is a powerful critique of the present state of the US and the "rigged" nature of its economy.
He outlined why he believes Bernie Sanders is the candidate who's best suited to set things straight.
Merkley wrote,
After considering the biggest challenges facing our nation and the future I want for my children and our country, I have decided to become the first member of the Senate to support my colleague Bernie Sanders for president... The problem is that our economy, both by accident and design, has become rigged to make a fortunate few very well off while leaving most Americans struggling to keep up... Under President Obama's leadership, our country is fairer and more prosperous for all than it was seven years ago. But as we look toward the next administration, there is far more work to do. We need urgency. We need big ideas. We need to rethink the status quo...
Senator Merkley argued he's not just attracted to Bernie's policy proposals but also his willingness to do what is right instead of what is popular. It's apparent Merkley admires Senator Sanders for standing up to the Democratic establishment and the people pulling the strings in Washington.
He continued,
It has been noted that Bernie has an uphill battle ahead of him to win the Democratic nomination. But his leadership on these issues and his willingness to fearlessly stand up to the powers that be have galvanized a grass-roots movement. People know that we don't just need better policies, we need a wholesale rethinking of how our economy and our politics work, and for whom they work. The first three words of the Constitution, in bold script, are 'We the People.' The American story is a journey of continuous striving to more fully realize our founding principles of hope and opportunity for all. It is time to recommit ourselves to that vision of a country that measures our nation's success not at the boardroom table, but at kitchen tables across America. Bernie Sanders stands for that America, and so I stand with Bernie Sanders for president.
In the op-ed, Merkley was careful to note his support for Sanders is not a rebuke of Clinton. The Oregon senator made it clear he respects her but finds Senator Sanders' bold vision for the US far more appealing in terms of the obstacles this country currently faces. He explained,
From her time advocating for children as a young lawyer to her work as first lady of Arkansas and the United States, and as a senator and secretary of state, Hillary Clinton has a remarkable record. She would be a strong and capable president. But Bernie Sanders is boldly and fiercely addressing the biggest challenges facing our country.
Merkley's words come at a time when many Americans feel decidedly pessimistic about the US.
It's rare but refreshing for a sitting senator to speak so candidly about the ways in which this country failed millions of working-class individuals who want nothing more than a stable future for their families.
As Merkley aptly put it, it's time for the US to "rethink" how its economy and politics work.
This endorsement definitely captures the sentiments surrounding Sanders' presidential campaign and gives him significant momentum moving forward.
Citations: Why I'm Supporting Bernie Sanders (The New York Times)