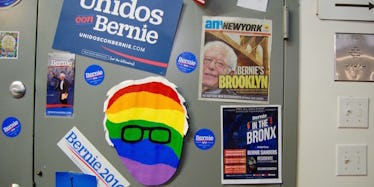 This Is What It's Like Inside Bernie Sanders' Brooklyn Headquarters
Bernie Sanders opened a campaign office in Brooklyn last month, and his staff is embracing his Brooklyn roots.
The office is tucked away in a warehouse within "a whole new Gowanus." I visited it over the weekend and spoke with his national press secretary Symone Sanders (no relation), who I last saw back in Des Moines. She said,
We're happy to be home, as the senator would say.
The office is marked with Bernie posters.
Bernie Sanders grew up in Brooklyn and went to Brooklyn College before transferring to the University of Chicago. Symone said,
When we talk about economic inequality, when we talk about opportunity for hardworking families, families that don't come from wealthy backgrounds, that don't have the opportunities that other folks have, Senator Sanders is speaking directly from the knowledge that he has from his upbringing. So I think that makes it authentic, that makes it real. That's the reason voters can connect with him. I think that's why you've seen so many young people get behind his message in our campaign.
Step inside the heart of Bernie's New York campaign:
Volunteers who help organize the New York campaign greet you.
Symone explained,
These are Bernie's people. This is his community, and we're happy that he's home and we're looking forward to coalescing that support into a win for us in Brooklyn -- but hopefully in New York state as well.
The office features a very patriotic, democratic suggestion box.
Bernie's Brooklyn office stands in stark contrast to the swankier Brooklyn campaign headquarters Hillary Clinton has had for the last year.
A Clinton staffer recently said while she is campaigning like a senator, Sanders is campaigning like a "Brooklynite." The Sanders campaign took it as a compliment instead of a dig.
Symone explained campaigning like a Brooklynite means going old-school with smaller, individualized events to reach voters. She said,
You hear the media and pundits talking about it's all superdelegates, but this is still in the hands of the American people. This election is in the hands of the people of New York, and we want to earn their support.
The most important part of any campaign office is its food supply.
And this being Brooklyn, the food is ultra-hip.
But be sure not to be too loud with your munching -- there's real work going on here.
Symone told me the New York campaign has many events targeted at younger voters, including young professional happy hours and watch parties. She said,
I don't want people to think that we just have all the support of all the young people already. We still have to go out there and earn votes.
Volunteers are hard at work speaking to voters about Bernie.
Lisa, a volunteer from Park Slope, said,
It's an opportunity not to be missed. It's a once in a lifetime opportunity. Finding a candidate of this integrity, who has the courage to run for national office, is just breathtaking.
Running a campaign is all about collaboration and coordination.
Symone said even unregistered voters can help out with Bernie's campaign. In addition to traditional volunteering, young people can help by speaking about the issues Bernie cares about, including student debt and tuition, on campuses and in their communities. She said,
We're interested in elevating the platform of those issues because, as the senator has said, this campaign is not about him. This campaign is about the issues. This campaign is about the people and elevating the conversation because we believe that voters deserve an elevated conversation.
The office is decorated with Bernie signs, newspaper clippings and handouts.
The wall of signs is regularly updated.
Symone encouraged young people to vote, even if you think your vote doesn't count. She said,
Every vote is going to count in this election and turnout is going to be key. We have always said when voter turnout is high, we do extremely well. When voter turnout is low, well, you know, sometimes we don't do as well... I'd say if you believe that we need to reform our criminal justice system, if you believe that we could do better in investing in the middle class, if you believe in a 15-dollar minimum wage, if you believe black lives matter, if you believe that we have to do something about addressing housing disparities right here in New York City, come out and vote, and vote Bernie Sanders.
Symone Sanders gets energy from Bernie fans and Bernie himself.
She said,
The energy was real and people are ready for this political revolution. People want to be engaged, they want to be involved, and they help energize me. The senator helps energize me as well. He's the most lively 74-year-old I know. Whenever I'm feeling a little bit drained, a Starbucks coffee [helps] -- but a Bernie Sanders rally always is a good pick-me-up.
The New York state primary is coming up on April 19.