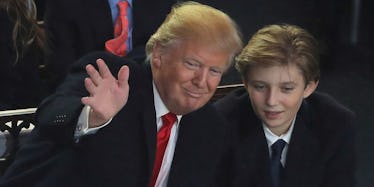 Trump's Reply To How Son Barron Is Handling Internet Trolls Will Make You Cry
REUTERS
Donald Trump opened up about his son Barron, as much as Donald Trump can open up, anyway.
He spoke about the treatment his son is receiving during an interview with Sean Hannity on Fox on Thursday.
Since the inauguration, Barron, who is 10, has been getting a lot of hateful comments and jokes made at his expense.
To be clear about this, that's really not cool. The kid's 10. Come on, America.
Criticize Donald and the other autonomous adults as much as you want, but mocking a 10-year-old is generally considered just unnecessarily mean.
And I mean there's so much to say about Trump and his horrendously harmful policies, how could you even have time to think about the youngest member of the family?
Most prominently, an SNL writer was suspended after tweeting a super inappropriate joke at Barron's expense.
During the Fox interview, the Donald said,
I don't mind some humor but it's terrible. For them to attack, for NBC to attack my 10-year-old son... it's a disgrace. He's a great boy. And it's not an easy thing for him. Believe me.
Barron is a preteen in the internet age, so I feel like I can safely assume he can see what people say about him online, which means, for once, I actually do believe Donald when he says "believe me."
The White House issued a statement a few days ago asking for privacy for Barron as part of "a longstanding tradition" for presidential children.
While this is the official tradition observed by the media, it does not mean that presidential children have traditionally been off-limits to trolls, assholes and racists.
Just under a year ago, Fox News had to shut down a comment section because people were making racist comments about Malia Obama, including calling her racial slurs.
The racism and sexism (and general jackassery) the former first daughter and her sister, Sasha, received wasn't limited to their last year in the White House.
In 2009, when Malia was just a year older than Barron, she was attacked for wearing her hair in twists.
Again, to be clear, just because Sasha and Malia were attacked does not mean that Barron should be, too.
Perhaps Donald could try out some empathy when he thinks about White House traditions.
When he's upset thinking that the media talking about the low turnout to his inauguration and his loss of the popular vote delegitimizes his presidency, perhaps he should remember how he spent years on a racist campaign to delegitimize Barack Obama's presidency.
And when he's upset that his son is under attack, perhaps he can remember Sasha and Malia. This could help him grow as a person and perhaps attain a baseline decent character.
Citations: Yahoo, USA Today, Daily Mail, Business Insider, New York Times