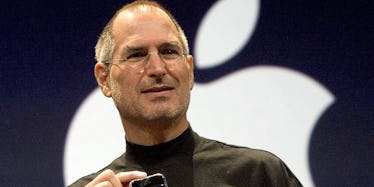 Banksy Used Steve Jobs To Make Compelling Statement On Refugee Crisis
Getty Images
Banksy, the notorious graffiti artist, has never shied away from touching on politically charged or controversial issues through his work.
He continued this streak with his latest piece, an image of Apple founder Steve Jobs sprayed on the wall of the Calais refugee camp often referred to as "the Jungle."
In the image, Jobs is seen in his iconic attire (jeans and black turtleneck), holding a sack off his shoulder and what looks like an early version of an Apple computer in his other hand.
This work stands as a compelling message to all of those who view refugees with disdain and suspicion, given Steve Jobs was the son of a Syrian migrant who came to the US following World War II.
Jobs' father, Abdulfattah "John" Jandali, was born in Homs, Syria, a city heavily impacted by an ongoing war in the country that's claimed around a quarter of a million lives and contributed to the worst refugee crisis since World War II.
Banksy, who rarely says anything publicly, accompanied this work with a statement.
He said,
We're often led to believe migration is a drain on the country's resources but Steve Jobs was the son of a Syrian migrant. Apple is the world's most profitable company, it pays over $7 billion a year in taxes – and it only exists because [America] allowed in a young man from Homs.
The US should take note of this in particular, given the animosity currently being displayed toward refugees by politicians and much of the public.
Refugees and immigrants have long enriched the culture of the US while contributing to its prosperity, and Jobs is just a small, but powerful, reminder of this.
Take a look at Banksy's new artwork below.
Citations: Banksy uses Steve Jobs artwork to highlight refugee crisis (The Guardian)