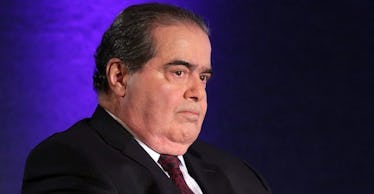 Justice Antonin Scalia Died During A Secret Meeting With The Illuminati (Basically)
Getty Images
It's hard to know where to begin with a story as strange as this.
So, I might as well start here: Antonin Scalia died while partying it up with a highly secretive hunting group that sounds suspiciously like an Illuminati offshoot.
Supreme Court Justice Scalia was believed to be a high-ranking member of the International Order of St. Hubertus, an exclusive hunting fraternity that dates back to the 1600s.
Members of the male-only society sport dark-green robes, and abide by the motto "Deum Diligite Animalia Diligentes," meaning "Honoring God by honoring His creatures."
The Washington Post reports members of the secretive group have met at the Cibolo Creek Ranch in Texas before. Scalia had been meeting with 35 other guests there the weekend he died, and most of those people have yet to be named.
Apparently, the owner of the 30,000-acre ranch, John Poindexter, was the one to find Scalia dead in his room after he failed to show up for breakfast.
Still, so many questions surrounding his death remain unanswered. No one knows exactly why Scalia allegedly asked the US marshals protecting him to stay behind while he boarded a private plane headed for the ranch with friend, C. Allen Foster, a prominent DC lawyer.
A Texas justice of the peace confirmed 79-year-old Scalia died from natural causes; however, no autopsy was performed. And naturally, law enforcement continues to deny knowing anything about the International Order of St. Hubertus or its connection to the ranch guests.
Amid all the unknowns, one thing is for certain: Scalia's hunting buddies look creepy as f*ck in their green robes. If that doesn't convince you they're all part of the Illuminati, then I don't know what will.
Citations: Justice Scalia spent his last hours with members of this secretive society of elite hunters (The Washington Post)