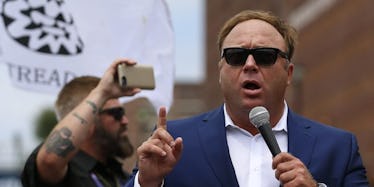 Trump Offers Man Who Says Sandy Hook Was Hoax Permanent Spot At White House
REUTERS
Alex Jones, a man who claims the Sandy Hook shooting was a hoax, claims he's been offered White House press credentials, New York magazine reports.
In a video posted on Wednesday, Jones, who runs the website InfoWars, said,
Here's the deal, I know I get White House credentials, we've already been offered them, we're going to get them, but I've just got to spend the money to send somebody there. I want to make sure it's even worth it. I don't want to just sit there up there like, 'I'm in the media, look our people are there.'
Jones is a right-wing conspiracy theorist.
He contends the Sandy Hook shooting, in which 20 children and six adults were killed at an elementary school, was staged.
Jones has also argued 9/11, the Oklahoma bombing and the Boston marathon bombing were inside jobs.
President Trump doesn't seem to have a problem with this.
Trump once told Jones,
Your reputation is amazing. I will not let you down.
Family members of the victims of the Sandy Hook shooting have called on Trump to denounce Jones in the past.
In October, Mark Barden, whose 7-year-old son Daniel was killed in the Sandy Hook shooting, told The Daily Beast he finds the relationship between Jones and Trump "disgusting."
He said,
The Republican presidential nominee of the United States is being advised by a delusional sociopath. It speaks for itself. What else can you say about that? It's disgusting... Every second of the day I am forced to consider the fact that my sweet little Daniel is gone and he's gone forever, and he's gone because someone shot him to death. Those are the recurring themes that I live with every waking and sleeping moment. It's unrelenting.
Given Trump spent years perpetuating a racist conspiracy theory about President Obama's place of birth, it's not very surprising he's friendly with a man like Jones.
But that doesn't make it any less disturbing, especially as we confront the Trump administration's attachment to "alternative facts."
Update 2:18 pm EST:
The White House press office denies it offered credentials to Alex Jones, The Hill reports.
Citations: Trump praises 9/11 truther's 'amazing' reputation (CNN), DONALD TRUMP AND THE "AMAZING" ALEX JONES (The New Yorker), SEE IT: Right-wing conspiracy theorist Alex Jones doubles down on 'completely fake' Sandy Hook massacre claims (New York Daily News), Alex Jones Says He's Been 'Offered' White House Press Credentials (New York)