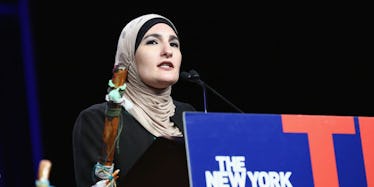 Activist Linda Sarsour Epically Explains What People Get Wrong About "Jihad"
Monica Schipper/Getty Images for The New York Women's Foundation
On Sunday, July 9, prominent Muslim activist and Women's March assistant treasurer Linda Sarsour penned an epic opinion piece in the Washington Post defending what she meant when she said "jihad" during a speech last week.
In the speech, given at the Islamic Society of North America (ISNA) conference, Sarsour cites a definition of jihad that might be a surprise to some. In full context, she explained what the Prophet Muhammad said when asked about "the best form of jihad, or struggle," according to Islamic scripture. Sarsour said,
Our Prophet... said to him, 'A word of truth in front of a tyrant ruler or leader, that is the best form of jihad.'
She goes on to call for this kind of speaking truth to power, specifically in the U.S.
Following this speech, backlash ensued. Conservative news outlets like Breitbart wasted no time in vilifying her and claiming that she invoked violence against the president. In response, many took to using the hashtag #IStandWithLinda on Twitter to show solidarity with the Muslim activist.
BuzzFeed Legal Editor Chris Geidner even went so far as to type up a transcription of Sarsour's speech in her defense, to show it in context.
In her Post op-ed, Sarsour defends her use of the word "jihad" during the speech, and her explanation shows just how narrowly most people understand the word. She writes that to most Muslims and religious scholars, "jihad" means "struggle" or "to strive for."
The term "jihad" itself, Sarsour suggests, has been co-opted beyond recognition, a vacuum waiting to be filled by wild assumption. She writes,
This term has been hijacked by Muslim extremists and right-wing extremists alike, leaving ordinary Muslims to defend our faith and in some cases silenced.
Since beginning her activism in the early 2000s as director of the Arab American Association, she's been busy defending the rights of vulnerable populations, including Arab Americans, Muslims, and women.
The recent backlash on her speech was merely the latest in a pattern of personal attacks. It hasn't been smooth sailings for Sarsour since the march, who says she's had to hire security personnel for public appearances and endured threats of violence. Sarsour writes,
It saddens me deeply that my three children are frightened. It angers me that I have to think about securing my physical safety even while walking through the neighborhoods of Brooklyn.
But if she's got reason to be scared, Sarsour doesn't seem to show it. Rising above the haters, she ends by saying that she "[refuses] to be intimidated" and "will not walk away from the people and communities" she loves.