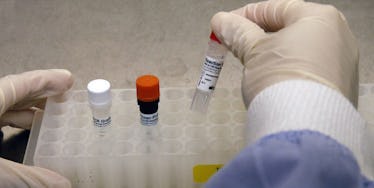 The Never-Ending Debate On Abortion Is Making It Impossible To Fight Zika
REUTERS
The Zika virus is officially in America.
Nearly 3,000 people in the United States caught it while traveling, according to the Centers for Disease Control and Prevention's latest report. But it's not just American travelers who are getting the disease.
Forty-three cases of Zika originated from mosquitoes in the United States, and 24 cases were transmitted sexually.
So, Zika is here. But Congress can't agree to do anything about it.
Back in February, President Barack Obama asked Congress for $1.9 billion of emergency funding to fight Zika and slow its spread in America.
Congress tossed around the idea of giving $1.1 billion for the fight against Zika, but before they went on summer vacation, they couldn't agree on it.
Congress started up again this week. On Wednesday night, they failed again to agree on a bill to fund Zika prevention.
Why is this bill failing to pass? Because Congress is salty AF about abortion.
The bill comes from the Republicans. While it gives the $1.1 billion, it has wording in it that Democrats surmise restricts funding for Planned Parenthood and other women's health clinics.
Women's health -- including contraceptive and abortion access -- is highly tied up in Zika.
The Zika virus can be spread through sex, so practicing safe sex in affected areas can prevent the spread of the virus. Women's health clinics provide information on safe sex, as well as contraceptives like condoms.
Sasha Bruce, the senior vice president for Campaigns and Strategy for NARAL Pro-Choice America, told Elite Daily,
Women's health clinics, including Planned Parenthood, are involved in this because preventing the spread of Zika through sexual transmission is the most obvious way of preventing the spread of Zika.
Meanwhile, the Zika virus itself only causes relatively minor illnesses for people who get it. However, it can cause major developmental problems for fetuses of pregnant women who become exposed, including microcephaly.
The brains of fetuses exposed to Zika can stop developing and their skulls may collapse, along with other growth problems.
The World Health Organization has advised women in areas linked with Zika to delay getting pregnant to avoid having children with birth defects.
Of course, two central ways to avoid getting pregnant is to use contraceptives and get abortions.
Women's health advocates, including NARAL, have said they don't advise every pregnant woman who may have been exposed to Zika to get an abortion.
Instead, as the Planned Parenthood website shows, they encourage pregnant women to have informed discussions with their doctors to get appropriate tests and make their own decisions.
Zika has been spreading in South and Central America, including in countries where abortion is illegal, which raises questions about those stances changing.
Although abortion and contraceptives are legal in the United States, Congress has made them a barrier to funding.
The Democrats refuse to pass the Republicans' funding bill since it includes the anti-clinic language.
The bill also includes language protecting the use of the Confederate Flag and making cuts to Obamacare and the Clean Water Act, according to Huffington Post.
The spread of viruses doesn't slow down to let politics catch up.
And the organizations fighting to stop the spread of Zika are quickly running out of money, which is also a crucial tool for eliminating the disease.
The CDC said in late August it's nearly out of Zika funds. The National Institute of Allergy and Infectious Diseases said on Thursday it's out of funding for Zika research, which includes creating a vaccine. The Biomedical Advanced Research and Development Authority is also running out of funding.
With money dwindling, organizations are taking money from other projects. Obama already took money away from both biomedical research and antipoverty and health care programs to help fund vaccine research.
When diseases aren't prevented, it just means we'll have to spend more money on treatment in the future.
Congress will have to figure something out soon.
Various organizations need immediate funding to prevent the spread of Zika through mosquitoes and sex, as well as to find cures.
Bruce from NARAL calls the Republican women's health funding block "unconscionable." She said,
You're choosing to not reach a majority of women if you don't include women's health clinics.
Planned Parenthood alone serves about 2.6 million patients annually, often reaching low-income women who wouldn't otherwise be able to access reproductive care, which helps prevent the spread of Zika and the births of developmentally stunted children.
Bruce said,
We don't get to ignore the reality of the avenues that Americans actually take to access this kind of healthcare when we're talking about remedies at hand.
The Senate indicated on Thursday it may reach a compromise with the Republicans dropping the anti-women's health language from the bill, according to Politico.
However, the House Republicans indicated they're still willing to put up a fight to keep the language in.
Citations: CDC, White House, Huffington Post, The New York Times, NBC, Politico, Vox