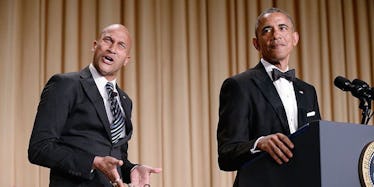 The 9 Nastiest Roasts From Previous White House Correspondents' Dinners
Getty Images
The White House Correspondents' Dinner is an opportunity for comedians to make a name for themselves and for presidents to show a sense of humor -- provided they decide to show up.
The WHCD has had performers since its initiation in 1921, including musicians and entertainers. In the 1980s, it became typical for comedians to host the affair.
Since then, the dinners have grown into broadcast events filled with an odd array of celebrities brought as guests of the media.
Hosts over the years have included everyone from young Conan O'Brien and Jon Stewart in the 90s to Wanda Sykes and Cecily Strong in the Obama era.
The White House Correspondents' Dinner is a show of goodwill between the president and the press -- and that tense relationship requires quite a bit of laughter to survive.
By the end of the night, everyone from the president to media personalities to politicians to reality TV show hosts is playfully insulted.
Here are some of the best jokes and roasts from the past few decades:
1. Stephen Colbert goes off on George W. Bush in 2006.
This speech goes down as one of the most "damn." performances of all time. Standing right next to Bush, Colbert bashed him for 16 minutes straight.
In one of the toughest moments (around 7:20 in the video), Colbert says about Bush,
I stand by this man, because he stands for things. Not only for things, he stands on things, things like aircraft carriers and rubble and recently flooded city squares. And that sends a strong message, that no matter what happens to America, she will always rebound with the most powerfully staged photo-ops in the world.
2. Obama shows up Jay Leno in 2010.
It's not always the comedians roasting the presidents. Sometimes it's the opposite.
Over the years, Obama showed true comedic skill at the White House Correspondents' Dinner, giving us all one more reason to love him.
In 2010, Leno hosted in the midst of that whole controversy between him and Conan O'Brien.
After going on about his own lowered approval rating, Obama said (around 2:30 in the video),
I am glad that the only person whose ratings fell more than mine last year is here tonight. Great to see you, Jay! I'm also glad that I'm speaking first, because we've all seen what happens when somebody takes the time slot after Leno's.
3. Conan O'Brien does a Bill Clinton impression in 1995.
Way back in 1995, O'Brien hosted the White House Correspondents' Dinner.
At one point (around 34 minutes), O'Brien puts an edited version of Clinton up on the big screen and does an "interview" with an outlandish version of the southerner's big personality.
Clinton could not stop laughing.
4. Craig Ferguson bashes Dick Cheney in 2008.
Cheney, if you don't recall, was vice president under Bush from 2001 to 2009. So in 2008, the administration was getting ready to leave the White House.
So Ferguson (around 19:30 in the video), said,
The vice president is already moving out of his residency. It takes longer than you think to pack up an entire dungeon.
5. Seth Meyers makes fun of Obama for not knowing where Osama bin Laden is, but the joke was on Meyers in 2011.
"People think bin Laden is hiding in the Hindu Kush, but did you know that every day from four to five, he hosts a show on C-Span?" Meyers joked.
Obama laughed gamely.
Little did anyone know, Obama knew exactly where bin Laden was. Hours later Obama would be watching the raid that would kill bin Laden.
6. Laura Bush interrupts her husband in 2005.
George is up there about to start a yarn when Laura walks up and takes over the microphone.
"Not that old joke," the First Lady said (1:00). "Not again."
The audience got up on their feet to applaud her. Bush continued,
Ladies and gentlemen, I've been attending these dinners for years, and just quietly sitting there. Well, I've got a few things I want to say for a change.
She showed off her own jokes, even getting some timely "Desperate Housewives" references in there.
7. Keegan-Michael Key plays Obama's "anger translator" in 2015.
President Obama is known for his composed demeanor. So Key jumped in to show what was going on underneath that calm surface.
Between this and the 2011 dinner, we should all know to never play poker with Obama.
I mean, damn, that's some poker face.
8. Cedric the Entertainer jokes about Condoleezza Rice in 2005.
Cedric said Secretary of State Rice's name is "soulful" -- and contains two people. He said,
There's the Condi -- that's the person you see on television with, you know, the nice hair and very professional. Then there's the Leezza. She the one with her hair wrapped up on the phone with her girlfriend watching BET...
9. Obama slams Donald Trump...and accidentally inspires him to run for president in  2011.
I know, I know, I know, Obama again. But he's so good!
So back in 2011, Obama went on a long stream about Trump and his racist birther movement.
"Now, I know that he's taken some flak lately, but no one is prouder to put this birth certificate to rest than the Donald," Obama said. "Now he can get to focusing on the issues that matter. Like, did we fake the moon landing? What really happened at Roswell? And where are Biggie and Tupac?"
Obama went on to say about Trump,
All kidding aside, obviously we all know about your credentials and breadth of experience. Just recently in an episode of Celebrity Apprentice, at the steakhouse, the men's cooking team did not impress the judges from Omaha steaks, and there was a lot of blame to go around. But you, Mr. Trump, recognized that the real problem was a lack of leadership, so ultimately you didn't blame Lil' Jon or Meat Loaf. You fired Gary Busey. These are the kinds of decisions that would keep me up at night. Well handled, sir. Well handled.
Obama made more jokes about what Trump would be like as president.
According to legend, it was this public humiliation that led Trump to actually run for president (although Trump has denied that).
And so here we are, in 2017, with Trump as president, not going to the White House Correspondents' Dinner.