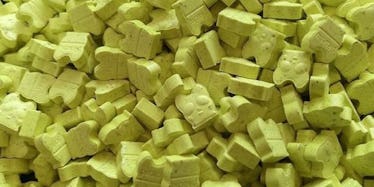 Pokémon Go Inspired A New Psychedelic Drug, And It's Seriously Dangerous
Sunday People
A dangerous new drug – inspired by Pokémon Go and shaped like Pikachu – is flooding the black market, according to an investigation.
It's allegedly a form of 2CB -- a hallucinogen that can cause cartoon-like distortions in your vision -- and other pills that have traces of ecstasy in them, reports the Sunday People.
The British newspaper claims it discovered that the powerful tablets are being made in Dutch factories, and then sold to dealers with bitcoin currency.
Dealers can then make a massive profit by selling them for around $7 each.
There are also auction houses on the dark web that move packs of 50 tablets for under $100, according to the newspaper. Drug makers are trying to capitalize on the Pokémon Go craze by molding the tablets into shapes of characters.
The app only launched last week in the UK, and the seedy underworld is hoping to ride the wave in the worst possible way.
A dealer who sold tablets to reporters allegedly said, "They are really high dosed 2CB pills – so be careful."
For now, the circulation appears to be contained to Europe.