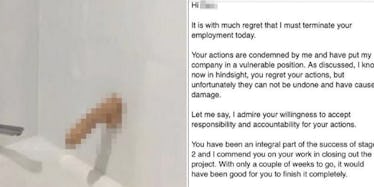 Plumber Fired After Sharing NSFW Pics Of Customer's Shower Dildo
Facebook
A plumber who spotted a dildo in a customer's shower while out on a job thought he would impress loads of guys by posting the NSFW pic in a Facebook group.
Now, he's looking for a new job.
The unnamed worker, from Queensland, Australia, was fired after the owner of the sex toy spotted her pride and joy on FB and complained to the man's boss.
Hey, guys — this is another reminder that posting something stupid on Facebook can be a very bad idea.
According to news.com.au, the plumber initially posted the photo in the controversial secret men's group, Blokes Advice.
But one of their number betrayed the rest of the group — leaking it to a female friend, who reposted it in the equally dumb group, Bad Girls Advice.
And guess who was a member of that second group? The woman whose bathroom accessory had been seen by thousands of people.
Awkward.
Clearly, she didn't see the humor in the post and the plumber was ratted out to his boss.
This made the boys in the group very, very unhappy indeed -- with some even suggesting they set up a GoFundMe page to help him out.
A previous version of Blokes Advice, FYI, was shut down by Facebook following complaints about offensive content that demeaned women.
Eventually, the plumber himself posted his letter of dismissal to the group.
His boss wrote,
Your actions are condemned by me and have put my company in a vulnerable position. As discussed, I know now in hindsight, you regret your actions, but unfortunately they can not be undone and have caused damage. Let me say, I admire your willingness to accept responsibility and accountability for your actions.
The plumber seems to be fairly cool with it, though.
He wrote his dismissal would give him time to have a "looooong haaaaaard think" about what he did.
So he may have lost his job and risked his income, but he's still the champion of the lolz.
And really, isn't that what life is all about? Right? Guys?
Citations: Tradie sacked for 'shower dildo' pic (news.com.au)