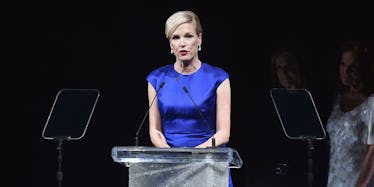 Planned Parenthood Praises Orlando's "Unimaginable Resilience" Since Pulse
Theo Wargo/Getty Images
One year after the mass shooting at Pulse Nightclub in Orlando, Florida claimed 49 lives, the country and world has spoken out to remember the victims and stand in solidarity with the LGBTQ+ community.
Cecile Richards, President of Planned Parenthood Federation of America, released a statement Monday in honor of the anniversary, saying,
The senseless shooting at Pulse nightclub in Orlando emphasized the stark reality that the fight for equality, safety, and justice for LGBTQ people, particularly LGBTQ people of color, is far from over.
Planned Parenthood is a leading provider in health care and sex education nationwide, as well as an advocacy group for issues such as reproductive rights. The group also provides resources for the LGBTQ+ community.
Planned Parenthood, as well as Richards herself, took to social media to express their support, sharing images displaying the names of all the victims. They wrote in their tweet,
We mourn. We remember. We stand with the LGBTQ community against hate and violence.
In the statement, Richards was firm in the organization's stance of support for the community. She said,
The Planned Parenthood community rejects and condemns all attempts to drive this country backward into further discrimination, fear, and hatred.
She calls attention to the fact that many of the victims were "Latino, LGBTQ, and young adults."
Last year, Planned Parenthood also expressed its condolences immediately following the attack:
The message of Monday's statement echoed the organization's statement from June 13, 2016, the day after the attacks. Then, Planned Parenthood said,
Enough is enough. We are overdue for serious steps to address the deplorable increase in gun violence that has led to deaths in every corner of our country.
While Richards in her statement Monday honored the solemn loss of lives, paying respect for the tragedy suffered by the victims and the community at large, the ultimate message was one of solidarity and praise for the bravery of the community. She said,
In the year since this act of terror and violence, Orlando's LGBTQ Latino community has organized, strengthened, and promoted healing and fellowship. In the midst of grieving this heartbreaking loss, they have also shown unimaginable resilience.
Richards ends with a call for improvement, saying,
We must commit to making our world a place where no one experiences discrimination or violence because of who they are or who they love.
One year later, Orlando -- as well as supporters worldwide -- continues to recognize the progress yet to be made as well as the lives lost. For example, the city has commemorated the shooting with a mural with four hands spelling out the word "love" and a Safe Place initiative to stand in solidarity with the community.