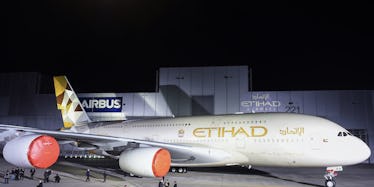 Pilot Turns Plane Around So Couple Can Go See Their Dying Grandson
Reuters/Fabian Bimmer
A pilot turned a flight around so two passengers could visit their grandson just before his death.
After departing from Abu Dhabi, United Arab Emirates, two grandparents noticed a missed call from their son-in-law as they boarded a connecting flight at Manchester Airport in England en route to Australia.
They texted him back, and they kept their phones on due to the overwhelming fear something was wrong.
According to Mashable, the Etihad Airways flight was taxiing on the runway when the two received a text saying their grandson was in intensive care and they should come see him right away.
Becky Stephenson, the couple's travel agent, wrote on Facebook the couple quickly got the attention of crew members who then relayed the emergency to the pilot.
The pilot turned the flight around and drove back to the gate. Crew members unloaded the two passengers' luggage, escorted them through the airport and even retrieved their car from the parking lot so they could rush to the hospital.
The grandparents arrived in time to say "goodbye" to their grandson, who reportedly died the next day.
In the Facebook post, Stephenson praised the airline, TravelMole reports.
She reportedly said,
Every little detail thought about and taken care of, so impressed and wanted to say let others know the service that they have provided... Had they not been allowed off the flight and had to fly back from Abu Dhabi they may not have made it to his bedside.
Since the two passengers did not take their connecting flight, Etihad allowed them to use their tickets on a future trip.
Citations: Etihad pilot turned plane around to let 2 passengers see their dying grandson (Mashable), Pilot aborts flight on runway to allow couple to rush to dying grandson's bedside (TravelMole)