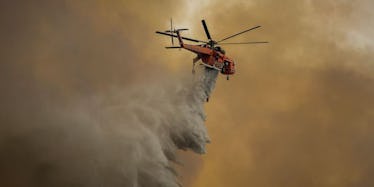 Photos Of The Los Angeles Fire Show What Made It The City's Largest Fire In History
David McNew / Getty Images
While cities and towns in Texas and Louisiana remain flooded after Hurricane Harvey, Los Angeles, California is battling the opposite element. A brush fire that began Friday, Sept. 1, looks to be one of the largest fires in LA history, the Los Angeles Times reports. The photos of the La Tuna fire, from news to social media, make it easy to see why.
As of Monday, Sept. 4, the 7,000-acre fire was at 30 percent containment, according to the Times. Gov. Jerry Brown declared a state of emergency on Sunday, and hundreds of people were evacuated and the 210 freeway was closed. But firefighters began to gain the upper hand, and a dose of rain to the area over the weekend helped to minimize spread, which quickens in dry, hot, and windy conditions.
The size of this blaze marks a new high for the region. Los Angeles Fire Chief Ralph Terrazas was quotes in the Times, saying,
We're confident back to 1961, the Bel-Air fire, that this is the largest fire by acreage in the city of Los Angeles.
CNN reported that, despite this estimate, the 2008 Sayre fire was in fact larger by acreage.
Regardless of whether it's a record or not, the photos of the fire provide a clear picture of what's been unfolding in Southern California this weekend, and it's not pretty. Below is downtown Burbank, where residents were evacuated:
The fire hit the Verdugo Mountains hardest, the Times reports, but images by Twitter users gave a sense of just how close the fire was to the major city.
It's basically Mordor in real life.
You don't have to be an expert to understand that apocalyptic-burning-lava-red is not the color trees should be.
We're all just waiting for the ground to open up and swallow something.
The fire reportedly destroyed four homes as of Monday.
(The firefighter below looks oddly calm given the cartoonishly-scary wall o' fire behind them, no?)
Coincidentally, Monday was also #NationalWildlifeDay, so for anyone who needs an uplifting image after that, you're welcome.
Stay safe, everyone!