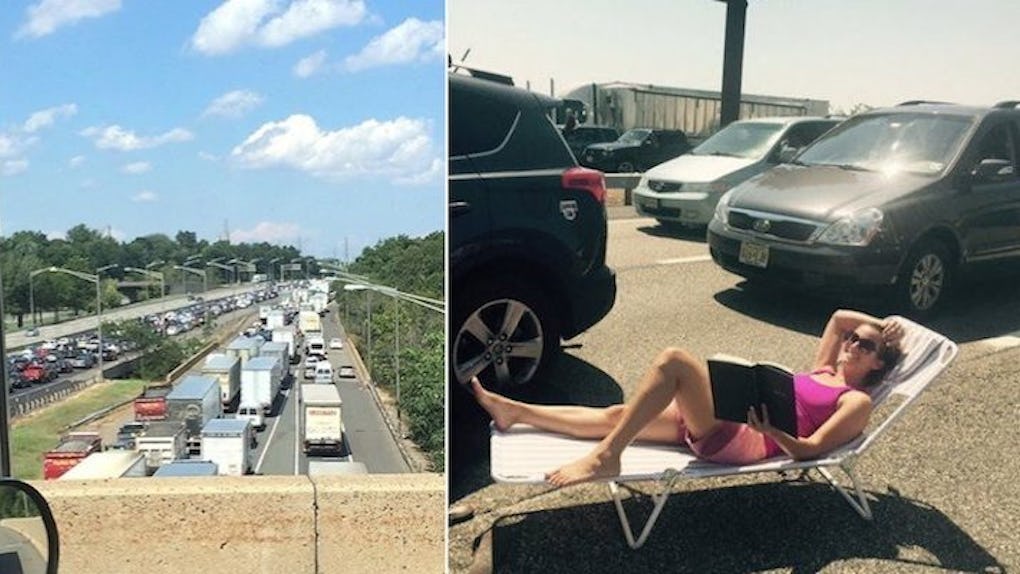 Twitter
Traffic On The NJ Turnpike Was So Insane, People Decided To Sunbathe
I would expect nothing less from the state that invented the concept of "GTL."
As a proud New Jersey resident, I know Garden State natives are firmly aware of two things:
1.  The actual location of Thunder Road.
2.  It could be 3 am on a weekday night when there is no road construction going on, and there would still be traffic on the New Jersey Turnpike.
Cars in New Jersey get hit harder by traffic than teachers get hit during union negotiations with Chris Christie.
On Tuesday morning, the commute to work was especially bad after a truck fire completely froze traffic on the New Jersey Turnpike.
NJ Turnpike Fire video from earlier today....NJ in a standstill from Elizabeth to Avenel NJ pic.twitter.com/wIUZgv74iK — Enzo (@coachdin10) August 4, 2015
Cars were backed up for miles, reportedly from at least Elizabeth to Avenel.
NJ TURNPIKE MESS - Traffic jam after fire shuts down New Jersey Turnpike in Linden. Strong VO. http://t.co/q7ATePeuy7 pic.twitter.com/xryExir18w — AP USVideoAlert (@AP_USVideoAlert) August 4, 2015
Jerseyians are proud and resourceful people, though, and while some states would wait out the traffic in the safety of their cars, Turnpike riders took the opportunity to turn lemons into Jersey Lemonade by transforming the strip of highway into a sandless/waterless/boardwalk-less beach.
Football and baseball games immediately broke out.
@News12NJ People playing baseball on the turnpike while waiting out the crash in Linden NJ #Linden pic.twitter.com/jZrLiZxXZJ — NYC State of Mind (@NYC_stateofmind) August 4, 2015
Others got straight to tanning.
People stuck in traffic for 3 hours have turned the NJ Turnpike into a concrete beach http://t.co/d0W2Hf9fSS pic.twitter.com/e82H4Bpxy6 — LaRetro Radio (@LaRetronet) August 4, 2015
TRAFFIC so BAD on #NJTurnpike right now people are SUNBATHING. Truck fire in #Linden pic.twitter.com/aq8bsxkBnV — Hollywood Hamilton (@HollyHamy) August 4, 2015
Some even just enjoyed the simple New Jersey pleasure of hanging out on a highway.
Stuck on the #njturnpike. People are mingling and walking around. pic.twitter.com/V5vwKpMX2w — Sarah Grady (@sjoyg) August 4, 2015
Anything to avoid taking the Parkway...
Citations: NJ Turnpike traffic a scene out of The Walking Dead (silive.com)