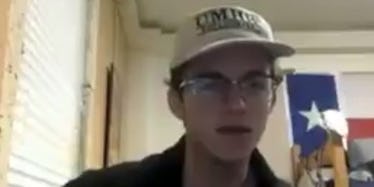 People Are Paying Tribute To Slain UT Austin Student With Video Of Him Singing
Twitter
Harrison Brown was killed in a tragic stabbing attack at the University of Texas campus in Austin on Monday.
Several others were wounded.
People are paying tribute to Brown by sharing a video of him singing and playing the guitar.
The video was originally posted by Brown on Facebook in December 2016 and shows him singing a cover of "I'll Be" by Edwin McCain. It has racked up over 330,000 views and 7,000 shares as people flock to the post to leave messages of love for Brown and his friends and family.
Clearly, he was a very talented musician and well-liked by those who knew him.
Maria A. Brown, who identified herself as Brown's aunt in a Facebook post, wrote that he "was a dynamic, young man with a bright future in front of him."
She added, "Sing to us from heaven above!"
Brown was a freshman at the University of Texas-Austin.
He graduated from high school in the town of Graham, Texas.
Graham Independent School District released a statement describing the young man's death as "heartbreaking," adding,
There are no words adequate enough to express the sorrow felt by Graham ISD and the community of Graham for this loss. Harrison was an inspiration to everyone around him. We were Blessed and honored to have known him.
School officials reportedly pushed back the exam period in the wake of the news of Brown's death.
Brown played in the school band and ran cross country in high school, according to the Star-Telegram.
He was also voted "class favorite" by his peers, and his teachers named him "most outstanding student."
Jack Graham, the mayor of Brown's small town, told the Star-Telegram,
You left meeting him with a smile on your face. He was a good-looking kid, a smart kid and just a friendly guy. You wanted him to succeed.
Graham High School Principal Joe Gordy added that Brown had "a unique ability to make everyone feel like he was their best friend."
"You have a lot of kids and adults hurting in Graham tonight," Gordy said.
A GoFundMe page has been started for a memorial for Brown. As of 2 pm EST on Tuesday, it's raised nearly $60,000.
Citations: HARRISON BROWN: WHAT WE KNOW ABOUT THE UT STABBING VICTIM (ABC 13), UT Austin student killed in campus stabbing was from Graham (Star-Telegram)