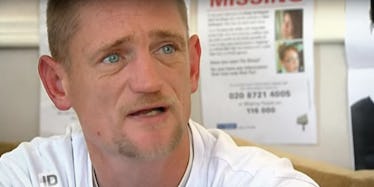 Pedophile Charged With Granddaughter's Murder After Cops Spot Tiny Facial Clue
YouTube/Investigation Discovery UK
A pedophile who killed his 12-year-old step-granddaughter was exposed as the murderer when he passionately appealed for her return home on TV.
The murder of Tia Sharp in Croydon, south London, in August 2012 is among the most high profile child murder cases in the UK in recent years.
A huge search was launched to find Tia when she vanished. Relatives, including Stuart Hazell — the man who sexually assaulted and killed her — made desperate pleas for her safety.
Now, a case investigator has explained why the boyfriend of Tia's grandma was suspected as the killer, and it was his TV appearance that revealed he was lying.
Body language experts noticed Hazell's earlobes turn red as he spoke about Tia's disappearance —a sure-fire way to know someone isn't telling the truth.
On an episode of "Faking It: Tears Of A Crime" on Investigation Discovery UK, Cliff Lansley said,
At this point you'll see in the video the tone of his ears change, giving us a clue that his blood pressure is increasing. You see them start to turn red. It gives us a clue that this person may be experiencing fear, and that could be fear of being caught in a lie. In the ears and the nostrils we have some very fine capillaries, and when the blood pressure increases, that's the first place that you may feel it.
Just a day after Hazell's appeal, Tia's body was found wrapped in plastic in the loft of the house he shared with her grandma.
Hazell was charged with murder. He initially denied the offense before pleading guilty a week into his trial.
In court, it was revealed he sexually abused Tia, suffocated her and took pictures of her dead body.
Tia's father called for the death penalty, which is outlawed in the UK, but Hazell, now 40, was eventually jailed for at least 38 years.
Citations: Paedophile killer's lies exposed by a single facial expression (Metro)