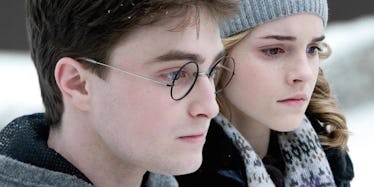 Pastor Says Kids Are Better Off Drowning Than Reading 'Harry Potter'
Warner Bros. Pictures
A pastor declared parents should drown rather than read their children the "Harry Potter" series because one of its most popular characters is gay.
Mashable reports pastor, radio host and Christian ministry director Kevin Swanson was a keynote speaker at the National Religious Liberties Conference in Des Moines, which was held on Friday and Saturday.
In a fiery speech, Swanson said Americans should repent for "Harry Potter" as well as "How to Train Your Dragon" because both feature homosexual mentors and he believes they have the potential to turn 6, 7 and 8-year-olds into homosexuals.
He then suggested parents would be better off killing their children than exposing them to the two stories. He said,
It would be better for them that a millstone be hanged around their neck and they be drowned at the bottom of sea… [rather than] be raised to be stumbled by the Dumbledores and by the mentors of Hiccup.
Swanson also pleaded for Americans to repent for abortion and impure country music or risk being "damned by the almighty!"
The pastor previously claimed the producers of the movie "Frozen" were secretly trying to turn young girls into lesbians, according to the Huffington Post.
During a 2014 radio show, he reportedly said,
I wonder if people are thinking, 'You know, I think this cute little movie is going to indoctrinate my 5-year-old to be a lesbian or treat homosexuality or bestiality in a light sort of way.'
Other attendees of the National Religious Liberties Conference included Republican presidential hopefuls Mike Huckabee, Bobby Jindal and Ted Cruz.
Citations: Pastor says it would be better to drown children than let them read Harry Potter (Mashable), Pastor Thinks Kids Should Drown Instead Of Reading Harry Potter (Huffington Post)