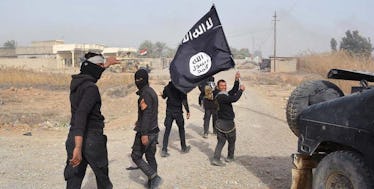 ISIS Claims Responsibility For Paris Attack, Says It's 'The First Of The Storm'
The Islamic State, otherwise known as ISIS, has publicly taken responsibility for the attacks in Paris which killed an estimated 128 people and injured at least 180 more.
ISIS made its public remarks in a communiqué published in Arabic, English and French on the Islamic State's Telegram account, The New York Times reports. The remarks were then further distributed by ISIS supporters on social media.
In the remarks, ISIS said the Paris attack is "the first of the storm" and called France a "capital of prostitution and obscenity."
The remarks from ISIS additionally said,
Eight brothers, wrapped in explosive belts and armed with machine rifles, targeted sites that were accurately chosen in the heart of the capital of France, including the Stade de France during the match between the Crusader German and French teams, where the fool of France, François Hollande, was present ... Let France and those who walk in its path know that they will remain on the top of the list of targets of the Islamic State.
One of the terrorists has been identified, according to CNN, by his fingerprints. He was reportedly a French national known to authorities.
Additionally, two passports were reportedly found near the bodies of the bombers.
In a statement to the nation on Saturday, French President François Hollande  said,
It's an act of war that was prepared, organized, planned from the outside and with accomplices on the inside.
Citations: ISIS Claims Responsibility, Calling Attacks 'First of the Storm' (The New York Times)