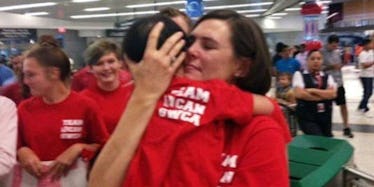 Orphan With Down Syndrome Meets Her New Mom, And It'll Warm Your Heart (Video)
Lucy is a 6-year-old girl with Down syndrome who, until recently, was living in an orphanage in China.
Audrey and Brent Shook, a couple living in a suburb of Houston, have been together since high school. Even then, they knew they wanted to adopt a child from China.
However, the couple got pregnant and put the idea on hold for several years. Then, they saw a video of Lucy singing and playing, and they immediately knew they wanted her to be their daughter.
Great Wall China Adoption is an agency placing special needs children in foster homes for four weeks in an effort to find them permanent homes. But, the Shooks knew they were ready to adopt Lucy before they even met her.
In this heartwarming and emotional video, you can see the moment Lucy meets her new parents at the George Bush Intercontinental Airport in Houston.
Audrey Shook greeted her new daughter by telling her, "Hi! I'm Momma," and Lucy immediately reciprocated Audrey's love, repeating, "Momma."
The Shooks have five biological children, who were also at the airport to welcome their new sister to the family.
Brent told KHOU,
We don't see it as we are going to help her, we see it as she's going to bless our lives.
It's great to see such an incredible child receive the love and family she deserves.
Citations: Orphan Meets Adoptive Parents (Daily Mail)