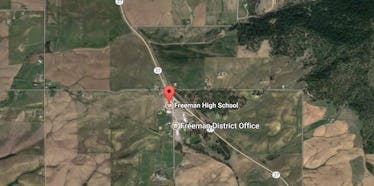 One Person Is Reported Dead After A School Shooting In Rockford, Washington
Google Maps
Reports of a gunman opening fire in a high school in Washington state on Sept. 13 have ended tragically. One person was reported killed and at least three were injured in a school shooting in Rockford, Washington on Wednesday morning, according to the Associated Press. Spokane County officials told the AP shortly before noon local time that the shooter was in custody and the threat had been eliminated.
A shooter opened fire at Freeman High School in Rockford, a town of about 500 people outside of Spokane around 10:00 a.m. local time, according to reports. The Spokane School department said on Twitter just before 10:30 that all southside Spokane public schools were in lockdown, adding shortly after that all public schools in the area were going into a full lockdown as a "precautionary measure."
Due to a reported shooting near Freeman High School, all southside SPS schools are currently in lockdown. Updates as information allows. UPDATE 10:36 - All SPS Schools now being placed into modified lockdown as a precautionary measure.
The lockdown was lifted at 11:25 a.m. local time, per a subsequent tweet.
Sheriff Ozzie Knezovich told The Spokesman-Review that the only suspect had been detained. "The shooter is in the back seat of a patrol car right now," he said on the scene, shortly before noon.
A spokesperson for the local hospital, Providence Sacred Heart Medical Center and Children's Hospital, told the AP that the hospital had received three pediatric patients. The patients were reported to be in stable condition and had family members with them.
The Spokesman-Review also reported that Spokane Fire Chief Brian Schaeffer confirmed that one student was killed in the shooting. There were no further details immediately available about the identity of the victim.
The shooting reportedly happened in a freshman hallway on the second floor. According to tweets from Spokesman-Review reporter Jonathan Glover, the student killed was a boy who had attempted to confront the shooter. He also tweeted that it was a member of the school staff who had stopped the shooter.
A photo posted to Twitter by a user with the handle @TheChristinaXX around 10:30 local time appeared to show evacuated students at the local elementary school.
The caption of the tweet, which was in reply to a tweet about the situation from Spokane News, read, "At Freeman elementary currently. I am a junior, evacuated from the high school. At least 4 shots."
After the news broke, parents rushed to the school to confirm that their children were all right.
Photos and videos from the scene showed parents waiting anxiously for their children, waiting to be allowed to pick them up. On the lawn where the parents gathered, notebooks and hats were visible, apparently dropped and abandoned.
Spokane Mayor David Condon issued a statement on the shooting. He wrote,
Our hearts are broken by the events at Freeman High School this morning. This is a terrible day for the students, parents, teachers, administrators and the rest of that close-knit community. Our thoughts and prayers are with everyone affected by this horrendous tragedy. First responders in our region are one team. Spokane City employees were part of that team in the first moments and will be there for the Freeman community as it begins a long road to recovery.
Rockford Mayor Carrie Roecks also expressed her grief to The Spokesman-Review. "It doesn't matter who [is affected] because it's going to be someone we know," she said.
According to gun safety advocacy group Everytown for Gun Safety, this is at least the 31st school shooting nationwide so far this year.
In a statement from the Washington chapter of Moms Demand Action For Gun Sense, volunteer Laura Latta said,
Today's shooting at Freeman High School – the second school shooting this country has seen in just 24 hours – is every parent's worst nightmare. No parent should have to worry if their child is safe from gun violence while they are at school. ... Our hearts go out to the victims and their families. Today's tragic news reminds us that we cannot stand complacent while families are left with an empty chair at their table because of gun violence. I urge our elected officials to do more to address gun violence and help save lives.
Our thoughts are with the community in Rockford and all those who have been affected by this tragedy.