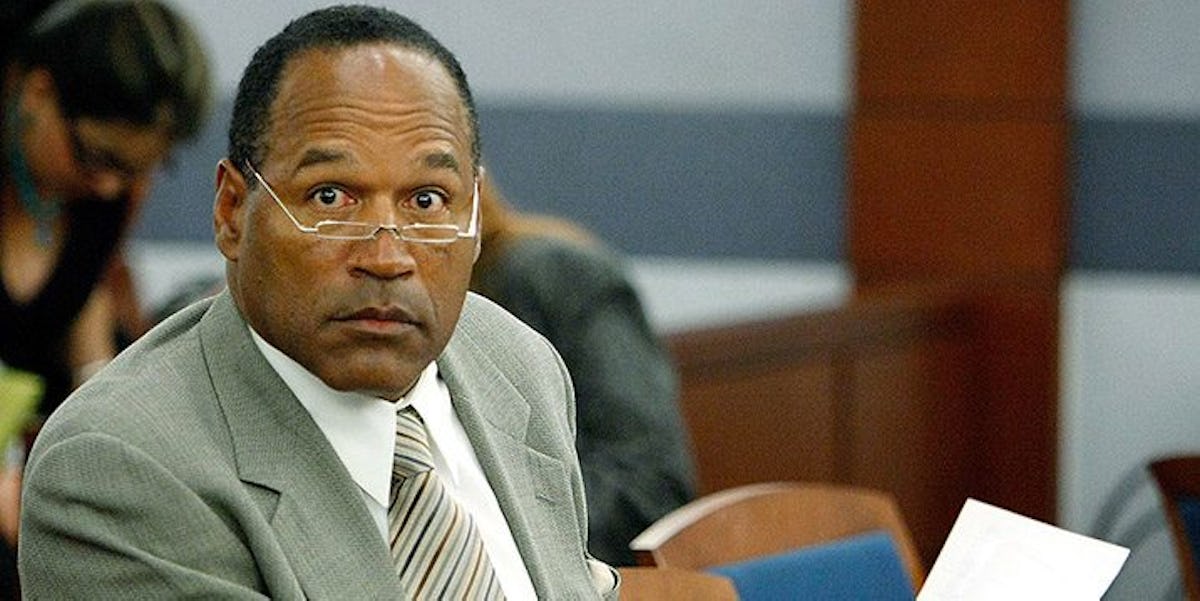 Who Is Arnelle Simpson? OJ's Daughter Testified At Parole Hearing
Justin Sullivan/Getty Images
On Thursday, July 20, at a parole hearing to determine the parole of one of the most notoriously famous men in the latter half of American history, one of Simpson's children took the stand to talk about her experiences growing up with a famous dad. Arnelle Simpson, OJ Simpson's oldest daughter, gave a heartfelt speech in defense of the man she believes her father to be, highlighting (at times, emotionally so) why that particular man deserves to walk free.
According to The LA Times, Arnelle is the oldest Simpson child, and the famous football player's firstborn from a previous relationship with Marguerite Whitley. Arnelle, born in 1968, is arguably the most public-facing of his children, taking on a highly visible role in her dad's parole in recent years. The LA Times and ABC News both reported that the idea for Simpson's then-unpublished, now-infamous If I Did It book was actually Arnelle's. The LA Times reported that Arnelle, who was quoted in a 2007 deposition, took the idea to her dad's lawyer and said, "This book deal has come to me to give to my dad. How do I go about making it legit?" The If I Did It book, written by a ghostwriter and not Simpson, has been a highly contested issue since its publication. (A Florida federal bankruptcy judge later awarded the rights to the book to the family of Ron Goldman, according to Newsweek.)
Later, in 2013 at a new trial requested by Simpson for the robbery for which he was convicted, Arnelle actually testified on her dad's behalf in Las Vegas. Arnelle's testimony, according to The LA Times, stated that although she had "heard" of the memorabilia, there was "no mention" of guns or weapons.
Fast forward four years later, and an impassioned Arnelle once again took the stand to argue on her father's behalf, addressing the commissioners who will decide the legal fate of OJ's future, noting that, more than anything, she (and the rest of the Simpson family) just want OJ to "come home":
Despite the emotion in Arnelle's speech, not everyone on Twitter was sold on what she said, due to the controversy surrounding OJ's acquittal in 1995 for the deaths of his ex-wife, Nicole Brown Simpson, and Ron Goldman.