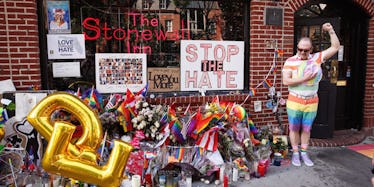 Obama Just Made Stonewall Inn The First National Monument For LGBTQ+ Rights
REUTERS
On Friday, President Barack Obama declared the historic Stonewall Inn a national monument, the first such monument recognizing the struggle for gay rights.
With New York's Gay Pride parade happening this weekend and the one-year anniversary of the Supreme Court decision legalizing gay marriage, the announcement could not have been timed better.
The Stonewall Inn was selected for its unrivaled place in the gay rights movement. On June 28, 1969, police raided the now-famous gay bar, a common tactic, but on that occasion, the queer community fought back and began to riot.
This outburst and the resulting arrests inspired protests, which in turn inspired organization that led to activism, transforming gay rights from a loose idea into a tangible movement.
Wendy Stark, the executive director of a community health organization for New York City's LGBTQ+ community, explained to CNN,
The Stonewall uprising, led primarily by people of color and people of transgender experience, was a watershed moment in our nation's history, sparking what many call the beginning of modern-day LGBT rights movements. The recognition of Stonewall as a national monument is an important step in recognizing our vibrant past and spotlighting the unique contributions LGBT Americans make to the rich fabric of our nation.
In a statement, Obama added,
I'm designating the Stonewall National Monument as the newest addition to America's National Park System. Stonewall will be our first national monument to tell the story of the struggle for LGBT rights. I believe our national parks should reflect the full story of our country, the richness and diversity and uniquely American spirit that has always defined us. That we are stronger together. That out of many, we are one.
According to CNN, the move to designate more places important to LGBTQ+ history has been in the works as far back as 2014 when the National Park Service began the Lesbian, Gay, Bisexual, Transgender, and Queer Heritage Initiative.
The move was met with jubilee as crowds formed outside the historic venue to celebrate.
The move was also met with support from a few prominent politicians, including Hillary Clinton.
The fight for LGBTQ+ equality still has a long way to go, but this is still an incredible moment for the queer community and every American.
Citations: Stonewall Inn Named National Monument, a First for the Gay Rights Movement (The New York Times), Lesbian, Gay, Bisexual, Transgender, and Queer (LGBTQ) Heritage Initiative (National Park Service), Obama names first national monument to LGBT rights (CNN), President Obama Designates Stonewall National Monument (The White House)