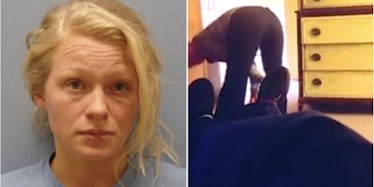 Nurse Grinds On 100-Year-Old Patient And Offers To Show 'New Things' In Video
Erie County Sheriff's Office/
Disturbing video footage allegedly shows a care worker giving a 100-year-old dementia patient a lap dance in his nursing home.
In the video, Brittany Fultz can be seen grinding on the man, twerking towards him and exposing her butt.
The 26-year-old also says, "I can show you new things," and "I won't tell if you won't. I'm a girl, you know what that means."
Fultz, of Marblehead, Ohio, has been charged with gross sexual imposition in relation to the video, filmed at The Commons of Providence in Sandusky, Ohio, in December.
And the Sandusky Police Department said she could still face additional charges relating to the case.
Sandusky Police Detective Anthony Bath told KFOR the nursing home resident indicated he did not consent to the dance.
He said,
She is basically harassing him. It's disturbing. She is touching him. This was not something he wanted.
The man in the video is a dementia sufferer, the Sandusky Register reported.
The nursing home is still investigating the clip, which was filmed by another woman who works there and is not believed to have been posted on social media.
It came to light on February 12 when the other worker came forward and informed a supervisor about the incident.
In a statement, Staci Lehmkuhl, executive director of The Commons of Providence, said,
The employee was placed on administrative leave and has since been terminated. We are cooperating with local police who are handling the investigation and we will not comment further about the ongoing investigation.
The worker who filmed the act was also fired.
Ms Lehmkuhl added Providence Care Centers reported the incident to police and the Ohio Department of Health as soon as they were made aware of the video.
Fultz was initially placed on administrative leave prior to being fired.
She was released on bond and is due to appear in court.
Citations: KFOR, Sandusky Register