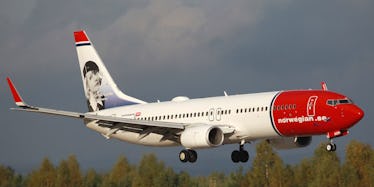 You May Soon Be Able To Fly From The US To Europe For Super F*cking Cheap
Shutterstock
A European airline is considering selling one-way tickets for overseas trips for as low as $69.
The potential flights offered by Norwegian Air Shuttle would fly out of US airports currently offering few or no international flights and travel to cities along the Atlantic, potentially including Edinburgh and Bergen.
A round-trip ticket to those destinations would come to around $300, which would be about $200 less than Norwegian's usual price for these flights.
In an interview Tuesday, Bjørn Kjos, the CEO of Norwegian Air Shuttle, revealed the airline is hoping to introduce these low-priced tickets as early as 2017, NBC News reports.
Possible US airports to host the flights include Westchester County Airport in New York and Connecticut's Bradley International Airport.
The airline is reportedly hoping to overtake competitors in the transatlantic market by offering cheap nonstop flights to smaller European cities.
Kjos said,
I think you will see a lot to that effect within five years' time. What will happen to (Lufthansa) when everyone starts to fly direct?
The CEO also noted Norwegian ordered 100 Boeing 737 jets, which he says are smaller than most of the planes making transatlantic trips and therefore better equipped for shorter flights of this nature.
Numerous European airlines recently introduced cheap flights from the US.
Iceland's WOW air reportedly offered a ticket to Paris from Boston for just $99, and tickets are apparently about $279 to go from Rhode Island to Frankfurt, Germany with German airline Condor, according to Fortune.
Norwegian, the third-largest European budget airline, began offering one-way trips from London to New York, Los Angeles and Fort Lauderdale last year for as little as $227.
Citations: Norwegian Air CEO Says $69 Flights From U.S. to Europe Coming Soon (NBC News), This airline wants to sell $69 tickets to Europe (Fortune)