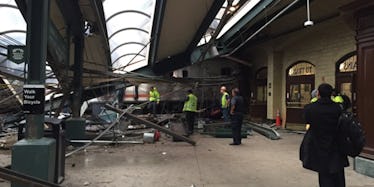 Chilling Photos Show The Aftermath Of NJ Train Crash That Caused 'Mass Casualties'
Twitter
At least one person has died after a New Jersey Transit train crash at Hoboken Terminal.
The train derailed and smashed through the station building during the busy morning commute at around 8:30 am on Thursday.
The fatality was confirmed by the Jersey City Medical Center, reports NBC News.
At least 40 people will be treated at the hospital, but there could be as many as 100 people injured. The Hoboken police chief said there were "mass casualties."
Dramatic videos and pictures of the destruction have emerged online.
Fire engines, ambulances and police vehicles have swarmed the area.
Part of the roof at the Hoboken station has collapsed because of the impact.
The train was making its way from Manhattan into the Lackawanna entrance.
There are no further details of injuries or numbers at this time.
Steve Capus told CBSN he saw someone with what appears to be a broken leg as well as victims in bloodied shirts. He said,
I can't underscore how crowded the train would have been. There would have been thousands of people at the station.
He added part of the station is being used to treat the injured.
A spokesman for NJ Transit told Elite Daily there are "multiple critical injuries." He said,
At approximately 8:45 am train number 1614, a Pascack Valley line departure from Spring Valley operating to Hoboken, struck the Hoboken Terminal building on track 5. Initial reports indicate multiple critical injuries. Rail service in and out of Hoboken is suspended due to the incident. HBLR and PATH are also suspended into and out of Hoboken Terminal. NJ TRANSIT bus and private carriers and ferry services are cross-honoring NJT rail tickets and passes.
The spokesman would not confirm the number of fatalities at this time.