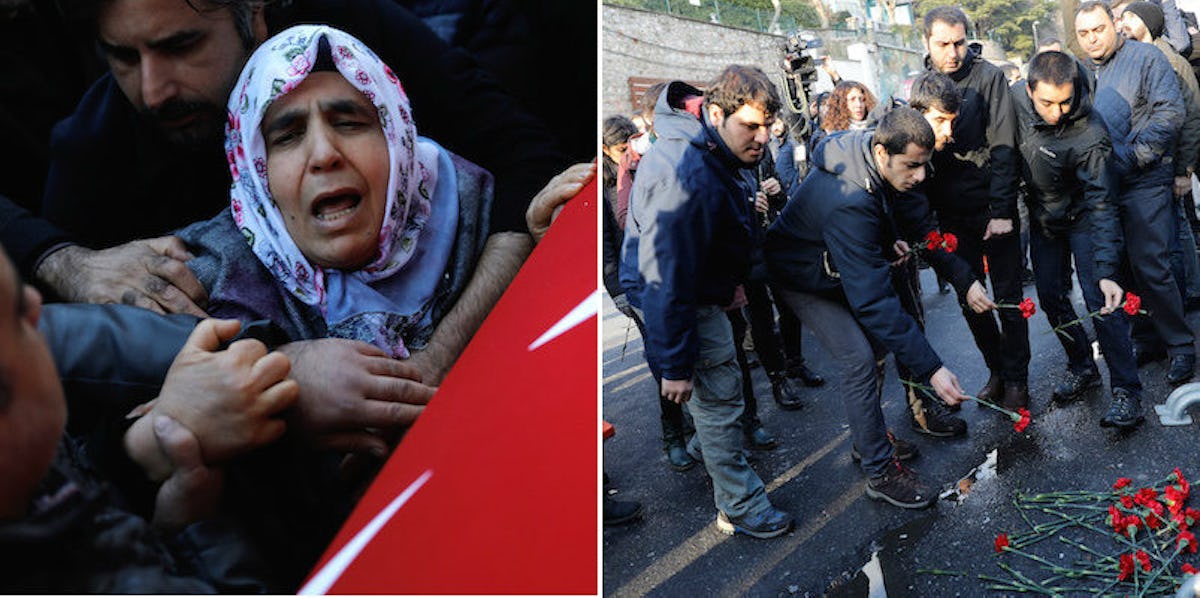 Devastating Nightclub Pics Surface After Istanbul Terror Attack That Killed 39
REUTERS
We are ringing in 2017 with heavy hearts after a terror attack on an Istanbul nightclub left 39 people dead. ISIS has just claimed responsibility for the horrific incident.
In the wake of this tragedy, pictures are surfacing of the suspected Reina nightclub killer as Turkish police attempt to close in on his possible locations, particularly within Yalova and Bursa, according to MailOnline.
The photos, which MailOnline reports are from CCTV footage, were released by investigators and are believed to show the blood, destruction and carnage of this massacre.
The alleged suspect appears to be wearing a blue bomber jacket, which he reportedly discarded with 500 Turkish Lira inside.
The alleged attacker was supposedly spotted at a port in Yalova leaving a ferry that was believed to cross the Sea of Marmara for about 40 miles. Then, he appeared to be making his way toward Bursa.
Police believe he headed north toward the Kurucesme district on the banks of the Bosphorus.
Police are aware of the alleged suspect's identity and nationality, but are withholding the information as the investigation continues, Turkish media are reporting.
Meanwhile, police are still questioning eight people, who are primarily from Kazakstan and Kyrgyzstan, in connection with the incident. A taxi driver who drove to Reina on that night was released, but reportedly gave very few leads to the police.
Among the victims are Rita Sami, the daughter of prominent Lebanese businessman Ilyas Schami, Heykel Müsellim, a Lebanese banker and Hatice Koc'un, mother of one.
The city is heartbroken and continues to mourn this awful tragedy.
While citizens, families and friends of deceased love ones are hurting, ISIS apparently is touting the five-minute incident in which well over 100 bullets were unleashed.
A statement was posted on Twitter from ISIS that read,
[A] heroic soldier of the caliphate who attacked the most famous nightclub where Christians were celebrating their pagan feast
The investigation continues.
Citations: First pictures inside Istanbul nightclub show bodies strewn across the floor as police release new photo of 'ISIS killer' and quiz eight people over New Year's Eve attack (MailOnline), Istanbul attack: ISIS claims nightclub shooting (CNN)