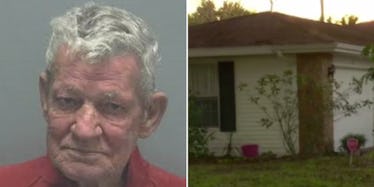 76-Year-Old Newlywed Man Shoots Wife In Butt After She Refuses To Have Sex
Lee County Sheriff's Office/Fox 4
A 76-year-old man told police he shot his wife in the buttocks because she refused to consummate their marriage.
Donald Royce, of Lehigh Acres, Florida, and his 62-year-old wife had been married for over six months.
But he admitted he shot her after an argument over their sleeping arrangements, according to deputies from the Lee County Sheriff's Office.
The victim, who is recovering at home from two gunshot wounds, described the incident as a "nightmare" in an interview with FOX 4.
She  never believed her own husband could be capable of such violence, and she wanted to send a message that violence toward women is never OK.
The couple tied the knot in August 2016 after spending six years together, but have not consummated the marriage since.
Their roommate told police she heard two gunshots, and when she went to investigate, Royce pointed a gun at her.
But she explained she was able to convince him they should call for medical help, and after emergency services arrived, the victim was taken to Lee Memorial Hospital for treatment.
When deputies arrived at the scene, Royce told them,
I shot her and the gun is in my room.
He later claimed he had meant to scare her by shooting the mattress and never meant to hit her, and was upset he accidentally shot her in the buttocks and hip.
The couple's neighbor April Bailey told FOX 4,
Holy cow, that's ridiculous. A grown adult having a temper tantrum about sex. A woman should have a right to her own body, regardless of age or marriage status.
Royce was arrested on Saturday, February 4 after the shooting.
He has been charged with aggravated battery and is being held at the Lee County jail on a $100,000 bond.
Royce is scheduled to appear in court on March 6.
Citations: 76-year-old newlywed shoots wife after argument over sleeping arrangements (FOX 4)